Why Is Nissan Mimicking MySpace?
The Japanese carmaker is rolling out a social networking site, called N-Square, designed to bypass bureaucracy by boosting informal contacts
Kenji Hall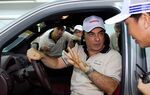 Some habits are hard to break. When Chief Executive Carlos Ghosn entered the picture eight years ago to rescue a near-bankrupt Nissan Motor (NSANY), the Brazilian-born Frenchman also set out to remake its corporate culture. He made English the official language at management meetings, introduced a performance-based grading system for employees, and added Western-style pay packages for top managers.
But he hasn't managed to change everything. One relic: consensus-building. Unless it's an order from the top brass, project teams can spend weeks in meetings about minor matters, a huge obstacle when quick decisions are needed. "We have so-called seminars to decide on the topics for a meeting," says Hikari Todoroki, an engineer at Nissan's research and development center in Oppama, west of Tokyo.
Now, executives think they know how to speed things up. In the coming months, the company will begin rolling out a social networking site, called N-Square, that will be open to tens of thousands of Japan-based office workers. Eventually, N-Square will connect up to 50,000 of the company's 180,000 employees worldwide, letting them create online profiles and blogs, form online communities and discussion groups, and swap data files.
A Way to Bypass Bureaucratic Channels
Since Ghosn took over, cost-cutting has been a top priority. The effort has contributed to improved earnings. In the latest quarter through September, Nissan's sales rose 11.7%, to $42.4 billion. While net income dropped 22.5% because of exceptional gains the year before, the all-important operating figure rose 5.3%, to $3.1 billion (BusinessWeek, 10/26/07).
But lowering costs is not just about trimming waste at factories. For Nissan, developing better, high-tech cars in less time and with fewer resources is just as vital—and harder to do. That requires employees to work with others who might not be sitting in the next cubicle. Engineers developing brakes for a small hatchback might want to consult more knowledgeable colleagues designing sports car brakes halfway round the planet.
A social networking site, says Simon Sproule, the Nissan executive in charge of N-Square, gives employees a way to circumvent the formal bureaucratic channels and create unexpected partnerships. You can't do that in an organization where everyone gets consulted on everything. "If you want to talk to your boss or your boss's boss or your boss's boss's boss, you set up meetings, you 'cc' everyone, you lay out an agenda, maybe even have a pre-meeting to discuss the topic," says Sproule. "There's an enormous amount of time spent just to get to talk to somebody."
Taking a Page from IBM's Playbook
Nissan's conversion to the power of social networking began in 2005. That's when Sproule visited IBM's (IBM) headquarters in Armonk, N.Y., and realized how behind the times Nissan was. He saw IBM's Web-based software that encouraged employees to share ideas. Execs also explained the IBM Jam, an annual online brainstorming involving all execs and employees. Back in Tokyo, he rang up General Electric (GE), Intel (INTC), 3M (MMM), and Procter & Gamble (PG) to ask how they encouraged collaboration. "For me, it was IBM that was the biggest inspiration," says Sproule, who is corporate vice-president. "That, and the 100 million people using MySpace."
Sproule won't say what N-Square is costing Nissan. But he's convinced that social networking will pay off by making it easier for employees to tap into the expertise they need to do a better job. Because it's voluntary, anyone who disagrees with him doesn't have to join. "You often learn more when you're sitting in the lunch room with your colleagues saying'what are you working on today?'" says Sproule.
In many ways, N-Square aims to be a virtual lunch room. Like the company's intranet home page, the day's news is listed in the center. On the right side there's a space for a person's profile, along with downloaded photos. Down the left side is a search box and list of categories for online communities. "On" communities discuss work-related topics such as designing a next-generation, diesel-powered engine or reducing overtime, while "off" groups rate the best local low-budget eats or debate the challenges of raising kids. Unlike users of Net-based networking sites, N-Square users can't leave comments anonymously.
Most of the 1,000 employees who have taken part in Nissan's pilot study like the site. Todoroki, the engineer, says he clicks on the site for a few minutes at least a half-dozen times a day to blog about the news, reply to feedback, or check in with friends. N-Square has come in handy for work, as well. Recently he suggested that a group deciding on stereo systems for overseas models hold their meeting on the pilot site. Three days later they made a decision. "It normally would have taken a month," says Todoroki, 33.
Using the Net to Retain Employees
But once the site has its full-fledged launch, not everything may go smoothly. Bosses might think their charges are goofing off, or employees might spend more time networking than working. The site could also widen the existing digital divide between office and factory workers, or unwittingly spill sensitive N-Square information to the Net, or get so overloaded with information it becomes unwieldy. And the company will need to set guidelines for what's allowed and what's forbidden and how rule-breakers will be punished. Says consulting firm Ovum's Steve Hodgkinson: "It needs people looking at it and managing it who are sensitive to the organization's social dynamics."
The potential payoff is happier employees who feel more attached to their jobs. "What we know from research is that one of the primary reasons people stay at the same company is that they're well tied into the social fabric of the place," says McKinsey & Co. consultant Leigh Weiss. "Companies will often lose top performers because they aren't sufficiently mentored or connected."
It's also a shrewd way to lure Gen-Y recruits. "Given the popularity of social networking in the consumer space, new and often younger generations of employees expect that these same types of social networking capabilities will be part of their work environment," says Jeff Schick, vice-president at IBM Lotus, which has created sites for Deutsche Bank (DB), the U.S. Federal Aviation Administration, and the Film Foundation.
Before it's here, it's on the Bloomberg Terminal.
LEARN MORE