Why Is Nissan Mimicking MySpace?
The Japanese carmaker is rolling out a social networking site, called N-Square, designed to bypass bureaucracy by boosting informal contacts
Kenji Hall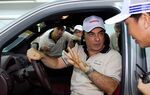 Some habits are hard to break. When Chief Executive Carlos Ghosn entered the picture eight years ago to rescue a near-bankrupt Nissan Motor (NSANY), the Brazilian-born Frenchman also set out to remake its corporate culture. He made English the official language at management meetings, introduced a performance-based grading system for employees, and added Western-style pay packages for top managers.