To Cut or Not to Cut?
The market's recent upbeat signals give the Fed little reason to slash rates further, but the still-unfolding credit turmoil will require more relief sooner or later
Will it be trick or treat this Halloween? The Federal Reserve faces a tough decision on Oct. 31: Cut rates again and risk easing policy too much, or hold rates steady and risk doing too little. Up to now, the Fed's words and actions have shown a clear preference to err on the easy side. The big half-point cut on Sept. 18 was recession insurance against the unknown fallout from the credit crisis. Since then, though, money-market pressures have diminished considerably, and generally upbeat economic reports seem to ask: "What credit crunch?" As a result the Fed may take a pass at its upcoming meeting. The futures markets, which a month ago had rated the probability of an Oct. 31 cut at about 90%, now say chances are only about one in three.
Nevertheless, it's a good bet the Fed, at some point, will have more work to do. This is a slow-motion credit crunch that will take a long time to play out. Investors are repricing the riskiness of many assets, especially those related to mortgages. Credit will be costlier and less readily available for some time. Despite recent improvement, borrowing conditions for many home buyers, consumers, and businesses are still tighter than before the crisis.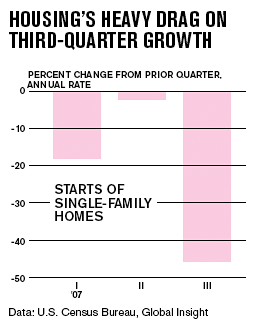 Barring some new downdraft, it will be easy for the Fed to withhold its treat on Oct. 31. Except for more dreadful housing data on builders' sentiment and starts, recent economic reports have held up well. September retail sales excluding autos and gasoline rose after declining in August, and car buying rebounded. Manufacturing output edged up after an August dip, and the August trade deficit narrowed for the third month in a row, assuring foreign trade will make a big contribution to third-quarter economic growth.
Interestingly, the government will report its first estimate of last quarter's growth on the same day the Fed meets, and the numbers will look solid. Real gross domestic product is currently expected to have grown in the neighborhood of 3% to 3.5%. However, much of the quarter's growth was front- loaded, a strong start but a weaker finish. Fed Chairman Ben Bernanke cautioned in a speech on Oct. 15 that "it remains too early to assess the extent to which household and business spending will be affected by the weakness in housing and the tightening in credit conditions."
The squeeze on economic activity will become more evident in the current quarter. Many economists now expect fourth-quarter growth in the 1%-to-2% range. Given slower job growth, a worsening housing slump, and oil near $90 per barrel prior to the heating season, consumer spending will be hard-pressed to match its strong third-quarter pace of about 3% or greater.
Also, businesses are more cautious. Surveys show boardroom confidence is down, and plans for capital spending and hiring are more tentative. Orders for capital goods other than aircraft have gone nowhere in the past three months, and they're below where they were a year ago. Inventories are lean, which removes one potential roadblock to production gains, but wary companies see little incentive to build up their stocks.
Companies also face an uncertain profit outlook, especially those dependent on domestically generated earnings. Over the past year, earnings from abroad accounted for almost all of the profit growth of U.S. companies, while domestic earnings grew only 0.9%. On Oct. 1 analysts expected third-quarter earnings per share for the companies in the Standard & Poor's (MHP ) 500-stock index to rise only 3.6%, but they see a rebound to 10.8% in the fourth quarter. In the face of slower economic growth and weaker pricing power, that seems like a stretch.
Although Bernanke gave no hint on Oct. 15 about the Fed's next move, his comments imply he believes two things: The full impact of the credit turmoil on the economy has yet to unfold, and the financial stress will not abate quickly. That suggests policymakers will be leaning toward taking out some more recession insurance—if not on Oct. 31, then in December.
By James Cooper
Before it's here, it's on the Bloomberg Terminal.
LEARN MORE