At EMI: New Space Reflects New Era
The publishing arm of EMI Group wanted to bring its employees under one roofand take a fresh look at its role in the music business
Helen Walters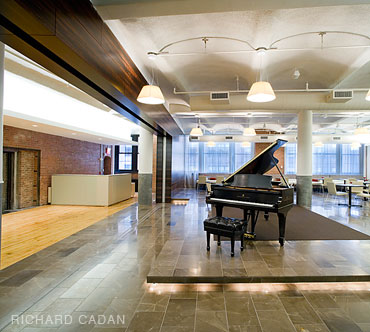 Roger Faxon had a dilemma. As chief executive officer and chairman of EMI Music Publishing, he saw his workforce suffering something of a collective identity crisis. It's no secret that the music industry is in a state of turmoil (BusinessWeek.com, 10/10/07), but the uncertainties and lack of a clear path ahead were starting to hurt the morale and efficiency of his team.
Worse, his staff was dispersed around New York City, with the executives and creative team in one office and support staff in a different building two blocks away. With a staff of hundreds of employees, this had created an environment that was less than cohesive, with miscommunications and confusion becoming a serious problem.
For Faxon, at least one part of the solution seemed clear: He had to unite his workforce—and he had to convey to them the importance of the music publishing business, which he felt had become too subservient to its record label partners. "Our industry had become very passive, I think largely because of the great success of the record industry. That made it comfortable," he says. "But the world has changed. We have to reassert ourselves into that world, and become a more vital, vibrant business."
Symbol of a Fresh Start
So Faxon turned to TPG Architecture and worked up a plan to renovate a 65,000-square-foot former textiles warehouse on the fourth floor of the Chelsea Market on Manhattan's West Side. Faxon himself helped develop the design and the floor plan, down to the selection of light sconces in the bathrooms. The new building would physically unite employees and remind them all that they played a critical role in the music business. During the week of Sept. 10, EMI Music Publishing employees moved into their brand-new digs.
The timing could be fortuitous. Private equity firm Terra Firma recently sealed its $4.8 billion deal to buy parent company the EMI Group. Faxon hopes that the office move can be symbolic of a fresh start for all as they attempt to chart the choppy waters that surely will be ahead.
"A lot of businesses don't really think about how they work," says Faxon, as he shows off the new space. "But environmental issues are really important." For Faxon, this was no mere vanity exercise. To him, an office environment is no less than a physical manifestation of the central business plan.
Communication and Conferencing
Take EMI Music Publishing's former setup: Having two separate offices in the same city just wasn't acceptable. "If the idea that a separation between the front office and the underlying service provision was ever a reasonable concept, it definitely isn't reasonable today," Faxon says. "The music market demands a speed of process and a speed of information flow. But people felt as though they were out of the loop and they didn't know what was going on. That's a bad situation."
To communicate with the company's international offices, TVs are set up for videoconference calls, including a huge screen in Faxon's own office. Other TVs in public spaces will project music-related programming (though these weren't working on this visit). "The hardest part of moving is getting the AV to work," Faxon comments drily.
The first thing you see on exiting the elevator is a vast open space with a Steinway grand piano front and center. Chairs and tables are dotted around to suggest a community area or café. Faxon says the area will also be used to host regular performer showcases. A large glass-enclosed conference room sits at the other end of the floor. Throughout are prominent references to awards won by EMI Publishing artists.
Emphasizing the Music
"In the old place there really wasn't any place where you felt you were in the music business," says Faxon. "Here, there's almost no place you don't know that."
That's less true the farther down the office you walk, but the effect is nonetheless dignified and cool. The renovation has retained a slightly industrial feel—plenty of glass and white pillars—set off by natural wood, with soundproofing materials sprayed onto the ceiling. And while there's a definite hierarchy in place—Faxon and his No. 2, Chief Financial Officer Leo Corbett, have large, glass-walled offices, and there are other private offices around the floor—Faxon says transparency, in every sense of the word, is central to the new design, which feels light and airy throughout.
"We're not totally open-plan," he says. "A lot of what we do has a certain sense of privacy about it, so we tried to create a balance." But the use of transparent materials throughout is about more than aesthetics. "Lack of controls usually takes place in a dark corner, not in the bright light. We have a fiduciary obligation to our songwriters and a business responsibility to our shareholder," Faxon continues. "And we have an environment that tries to enable those."
Low-Rent District
Within the space, teams are located according to their roles, with departments that work together placed directly next to each other. Faxon terms the system 'neighborhoods,' designed to encourage communication and collaboration between disciplines such as licensing, copyrights, and royalties. A largeish listening room and a research space where music commissioners from ad agencies or filmmakers in search of the perfect soundtrack can comb EMI's back catalogue of over a million songs are prominently placed on either side of the space.
Even better, Faxon adds, the office space works out to be a lot less expensive than the company's previous two office spaces in Midtown Manhattan, which cost between $95 and $140 per square foot. "I don't think it serves the interests of our shareholder to spend that sort of money," Faxon says. The Chelsea space costs around $70 per square foot.
While it remains unclear how the music publishing industry will look in years to come, or what role companies such as EMI Music Publishing will play, Faxon seems relieved to have his team in one place. As he concludes the tour, he stops and looks at the glass space in front of his office. "I wanted people to be able to see that Leo and I were always in sight," he says. "It wasn't that everyone else had to be in the open but we could hide. And you know? It's amazing how many people walk by. They want to see what we're doing." They're not the only ones.
Before it's here, it's on the Bloomberg Terminal.
LEARN MORE