Housing Speculators Are Ready To Bail
One twist in the tale of the swelling inventory of existing homes is that new listings are coming on the market at a much faster pace than homes are being sold. In the past, even during market downturns, new listings and sales have tended to run at about the same pace, but this time a large and persistent gap has opened up. The culprit appears to be the unusually high level of speculative buying in recent years.
Over the past year the average number of homes hitting the market per month was 494,250. Although new listings aren't given by the National Association of Realtors (NAR), economists at JPMorgan Chase (JPM ) note that the number of houses new to the market each month can be derived by adding monthly sales to the change in inventories. Meanwhile, sales ran at a monthly pace of only 441,750. That gap helped to push August inventories to a record 3.92 million.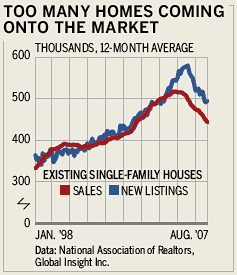 The current explosion in inventory appears to be linked to a high degree of speculative activity. According to Federal Reserve residential mortgage loan data, second-home loans accounted for 16% of the total in 2006 and 2005, up from 14% in 2004.
Second-home loan issuance was heavily concentrated in states where housing sales were the strongest during the boom and the subsequent, current downturn is most pronounced. In 2006, Arizona, California, Florida, and Nevada accounted for more than 30% of all second-home loans. Activity last year was also higher than the national average in Hawaii, Idaho, New Mexico, and Oregon.
Given the large number of new listings each month, it looks as though many people who bought homes as potential investment properties, or to flip for an easy profit, are fleeing the market. These sellers are motivated to get out quickly and may be more likely to make concessions than typical homeowners, says Lawrence Yun, senior economist at the NAR. That could exacerbate price declines not just for existing homes but also for new ones, as builders attempt to sell off their own inventory.
By James Mehring
Before it's here, it's on the Bloomberg Terminal.
LEARN MORE