Don't Count Out The Consumer Just Yet
If the job markets don't falter, households may keep up their spending
When the going gets tough, the tough go shopping. That's been a familiar pattern of American consumers through the rough spots of this nearly six-year economic upswing. Now, however, households face their biggest challenge yet from falling home prices, tighter credit, and a softer job market. That combination threatens to take away all three cushions that have given them their resilience: steady gains in wealth, easy borrowing conditions, and strong income growth. There's no denying that household spending will feel the downdraft—but maybe not as much as some scary-sounding headlines in recent weeks have suggested.
What's certain is that if consumers are going to prevail yet again, they will need some help, mainly from businesses and the Federal Reserve. So far, so good: The Fed has already provided its support by cutting interest rates, which helped stabilize the credit markets and lower borrowing costs. Still, there is little the Fed can do about falling home prices, which still have further to drop, given the mountain of homes now on the market. At least stock prices have bounced off their lows, which offsets some of that lost housing wealth.
The most crucial influence over consumers' outlook will be wielded by the business sector as hiring decisions are made. The good news is that profit margins remain high, inventories low, and corporate balance sheets strong. Business confidence took a hit from the market mayhem in August, and the data show that companies are bringing new caution to their spending decisions. So far, however, there are few signs of any major retrenchment in capital spending or payrolls. September surveys of business activity in the manufacturing and service sectors show slower but steady growth, according to the Institute for Supply Management.
THROUGH IT ALL, consumers are hanging in there. Despite the two-year-old housing slump, a year of declines in home prices, and 2007's slower pace of job growth, inflation-adjusted consumer spending appears to have grown at an annual rate of about 2.7% during the first three quarters. That's below the 3.4% pace of 2006 but still a solid showing.
Consumer outlays in August, when the severity of the credit crisis came to light, were surprisingly sturdy. Real spending on goods and services, adjusted for price changes, rose 0.6% from July, matching July and October of last year for the best monthly showing in two years. In September, weekly retail surveys show buying is holding up; the major complaint is that unusually warm weather has depressed turnover of fall apparel. And car sales were higher-than-expected, an annualized rate of 16.2 million, after August's 16.3 million. Sales actually improved from their pace in June and July.
Even if overall September outlays post a slight decline, real consumer spending for the quarter will still grow at a healthy 3% annual rate from the second quarter.Why the strength? Through August, household income (after adjusting for inflation and taxes) has grown at a 3.5% annual rate. Surging gasoline prices sapped buying power in the second quarter, but the drop at the pump in the third quarter gave spending a lift.
THE IMPORTANT QUESTION in the months ahead will be this: How much of the recent momentum in their income and spending growth will households maintain? The answer gets back to the business sector and job markets. Consumer confidence has declined since July, partly reflecting job worries, most visible in the Labor Dept.'s weak August jobs report. But despite those labor market concerns and the August market mess, the dip in confidence through September has been only modest.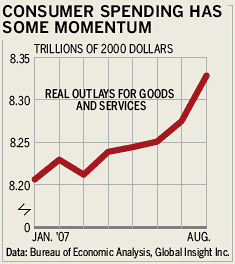 In fact, recent soundings from the labor markets have not been uniformly soft. New unemployment insurance claims through September actually fell, indicating at the least no new layoff activity. Also, an August survey across all 12 Fed districts found many businesses still complained of labor shortages.
Businesses do seem more cautious about committing money to buy new equipment, although they continue to pump funds into construction. While new orders for capital goods other than aircraft dipped 0.7% in August, outlays for business structures jumped 2.3%. Equipment orders have flattened out in recent months, including those for high-tech gear, but construction spending so far this year is growing at a sizzling 18.2% annual rate.
THE BUSINESS SECTOR has several things going for it that will help to fuel expansion plans in the coming months, much to the benefit of working households. Profits won't escape the turmoil of recent months. Nonfinancial corporations, however, entered the second half with historically high profit margins, meaning companies still have plenty of incentive to capitalize on their profitability by expanding operations.
Unit profits rose in the second quarter, according to the Bureau of Economic Analysis, and held to the same lofty range they have occupied for the past three years. In the past, businesses have not resorted to sharp cutbacks until margins have eroded considerably.
In addition, businesses have already spent months wrestling their inventories into better alignment with demand. As a result, companies will head into the coming quarters with stockpiles at low levels. That serves to vent one key source of potential downward pressure on output and employment.
Plus, corporate balance sheets through the second quarter continued to strengthen, and generally they are in the best shape in decades. Cash flow is down from its 2006 peak, but it remains historically high. Because of strong cash flow, businesses still have very low financing needs. The recent jump in interbank borrowing rates, to which many business loans are tied, will have only limited impact on borrowing, since corporate exposure to short-term debt is small. In fact, the ratio of short-term debt to total credit-market liabilities is at an historic low. The stock market rallied recently on the belief that the worst of the credit crisis is over; if that premise is borne out, it will be sure to buoy business confidence and enhance equity financing.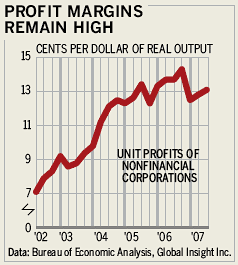 The market bounce also lifted household net worth in the third quarter, despite weaker home prices. Given that the broad Dow Jones Wilshire 5000 Index of stocks finished the third quarter up by 1.4% from the second quarter, household financial assets appear to have grown by some $600 billion during the quarter. That will most likely offset any weakness in overall household net worth resulting from softer home prices. Financial assets are 62% of all household assets, while home values are only 29%.
It would be foolhardly to believe consumers will be invulnerable to the events of the past few months. But don't expect them to throw in the towel, either. There's a good chance households will provide key support to the economy in the coming quarters—just not with the same strength they have offered in recent years.
By James C. Cooper
Before it's here, it's on the Bloomberg Terminal.
LEARN MORE