Sony Financial Buoys Japanese IPOs
The $2.7 billion initial public offering, the largest in Japan this year, is expected to give the IPO market a second wind
Kenji Hall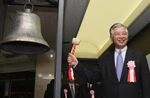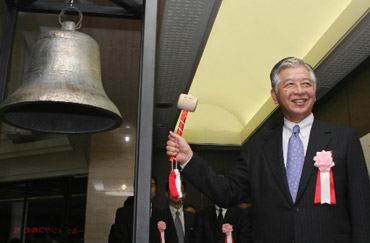 Sony Financial's successful $2.7 billion debut as a publicly listed company gives parent Sony (SNE) reason to celebrate. With the expected windfall from the Oct. 11 initial public offering, the Japanese consumer electronics and entertainment giant is now expected to revise upward its full-year net earnings by about $128 million.
But the exultant mood following the country's largest public offering of 2007 wasn't only being felt inside Sony's glass headquarters in Tokyo. Many market watchers now think the entire Japanese IPO market could be in for a second wind going into the end of the year. "Today's deal could mark a watershed event for the IPO market this year," says Takashi Nishibori, editor-in-chief of Tokyo IPO, which publishes an Internet newsletter. "If Sony Financial is a success, it should help the rest of the IPOs this year."
The sheer size of the Sony Financial deal—10 times the amount of the country's second-largest so far this year—had many analysts and traders holding their breath in the days before the stock went public. Many were wary of the potential damage to the remaining 13 IPOs this year if the Sony offering went south.
A Preference for Private Placements
That's because the domestic public-offering market has been in a funk for several months. At the end of September, IPOs in Japan were down 58%, to $2.24 billion, from the first nine months of last year, according to Thomson Financial (TOC). At that point, nearly 80% of the 93 new publicly traded issues this year were trading below their opening prices. Many Japanese companies had avoided the market, issuing shares instead through private placements, which nearly doubled between January and September, compared to the same period last year, Thomson Financial estimates.
The recent implosion in U.S. subprime mortgages only added to the IPO market's woes, as global investors either bailed out or stayed away from Tokyo. Since the beginning of the year, the Topix banking index has shed 18%, while a key financing-sector benchmark is off 23%.
But concerns mostly abated by the end of the day. Sony Financial's stock rose as much as 5% before closing 3.8% above its initial offering price of 400,000 yen ($3,420). That put the company's market value at $7.7 billion (about half the capitalization of Japan's only other listed insurer, T&D Holdings). The bellwether Nikkei 225 Stock Index also finished the day 1.6% higher. "It's looking all right," said one analyst at a Western brokerage that didn't take part in the deal. He asked not to be named.
A Dependable Moneymaker
Sony Financial's stable earnings were one obvious draw for investors. The company's entry into life insurance started in 1979 as a joint venture with Prudential Financial (PRU). The idea was that consumers would buy from a company that had a stellar reputation for making TVs, portable music players, and other gadgets. That proved right and Sony's life insurance business, which accounts for more than 90% of the division's revenues and 80% of profits, has done well in Japan, allowing the company to venture into other services, such as car and property insurance and Internet banking.
In recent years, the division has been a dependable moneymaker for its once-beleaguered parent. As Sony struggled to reform its money-losing electronics business, and its video game division swung from profit to loss, the company's financial business consistently ranked as the company's best or second-best performer. It was also a rich source of cash, bringing in more than a third of the company's total $6.8 billion in cash flow last year, and insurance premium incomes often have risen even as those of competitors contracted. Macquarie Securities expects Sony Financial's operating profits to rise 25%, to nearly $900 million, on a 15% gain in sales, to $6.3 billion this fiscal year through March, 2008.
But what seems to have ensured the offering's warm reception was the strategy of lead underwriters Nomura Holdings (NMR) and JPMorgan Chase (JPM). To limit the possibility of investors cashing out immediately, the brokerages didn't sell through Net brokerages, traders said. "Nomura's know-how in managing the details was a big reason things went smoothly," said Tokyo IPO's Nishibori.
Parent Back in Shape
The IPO appears to have been a shrewd move by Sony. The company cut its holdings in Sony Financial to about 60%, selling 795,000 of its own shares to the public while the financial unit issued 75,000 new shares. By doing so, Sony generates a pile of money for its electronics and video games business without forfeiting the financial business's steady cash flow. That's exactly the kind of smart choices that Chairman and Chief Executive Officer Howard Stringer has made to whip a sluggish Sony back into shape.
Before it's here, it's on the Bloomberg Terminal.
LEARN MORE