Why The Fed's Cut Won't Spark Inflation
Housing woes, tighter credit, and a softer labor market should douse it
Did the Federal Reserve do a good thing or a bad thing? Wall Street and bourses around the world seem to be of two minds since the Fed boldly slashed its target interest rate by a half-point on Sept. 18. The response in several previously frozen markets for short-term financing was extremely positive, and stock investors were jubilant. However, the reaction in longer-term fixed income and commodities markets, especially for gold, has been more circumspect. Investors there have new worries that the Fed just kick-started a round of inflation.
The concerns seem clear. The price of crude oil is hovering around $80 per barrel, threatening to lift energy costs in coming months. Gold, a traditional inflation hedge, has soared above $700 per ounce and is flirting with a 28-year high. The dollar has fallen to a record low against major currencies, and that is expected to boost import prices. And market-based measures of expected inflation have picked up.
However, all that does not add up to a deteriorating inflation outlook. What's missing is the economic backdrop against which all this is occurring. The economy is slowing down, as the effects of a new decline in housing and the credit crunch are buffeting consumer and business demand. The labor markets are softening, a process that began before the credit squeeze and one that eases worries that rising labor costs will fuel higher prices. Moreover, inflation outside of energy and food has been falling all year and has shown little evidence that higher production costs for energy and food are being passed along into prices of other products.
Perhaps most important, a financial shock that results in falling asset prices is never inflationary. It's just the opposite. For example, when the bubble in tech stocks burst in 2000, the U.S. economy flirted with outright deflation; that is, not just lower inflation but falling prices. In 2003 and 2004, prices of consumer goods, excluding energy and food, fell for two consecutive years, something that hadn't happened since the Depression. This time it's home prices that are falling, and the impact is hammering prices of mortgage-related securities.
THE ECONOMY IS HARDLY in a position to generate a worrisome bout of inflation right now. It managed to grow only 1.9% from the second quarter of 2006 to the second quarter of this year. In coming quarters, as the slump in housing and tighter credit depress demand, the average growth rate is unlikely to accelerate from that clip.
Significantly, the economy's recent and prospective pace is safely below any accepted estimate of the economy's noninflationary growth limit. Most economists believe that rate is somewhere above 2.5% but below 3%. When an economy grows below that pace for a long period, demand is not strong enough to strain the productive limits of existing labor and production capacity, meaning upward pressure on prices is difficult, if not impossible, to sustain.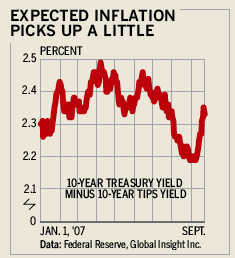 Consumer demand will be under particular stress in coming months, especially if job markets continue to soften. Up to now, most of the worries about inflation have been centered on potential wage pressures stemming from tight labor markets, but that's changing. The September drop in the Conference Board's gauge of consumer confidence, to the lowest level in nearly two years, partly reflected concerns about jobs. For the second month in a row, the percentage of households describing jobs as "hard to get" rose, while the share saying jobs were "plentiful" fell.
Another sign that labor markets are loosening up is this year's drop in the ratio of employment to the adult population. The decline from 63.4% at the end of last year to 62.8% in August is the steepest since the weak job market of 2003.
DECLINING HOME PRICES will be another weight on consumers, as well as inflation. Housing wealth, which has helped to support household spending, is sure to take a hit in coming quarters. In July the Standard & Poor's/ Case-Shiller Home Price index for 20 major cities showed prices down 3.9% from a year ago, faster than June's 3.4% drop. Adding more fuel to future price weakness, sales of existing homes kept falling in August, down 4.3% from July, and the time needed to sell the houses now sitting on the market has increased to 10 months, close to a 20-year high that will continue to place heavy downward pressure on prices.
Against this backdrop, it shouldn't be surprising that core inflation, which excludes energy and food, is already declining. Since its recent peak of 2.9% in September, 2006, yearly inflation measured by the core consumer price index has fallen steadily to 2.1% in August. Price growth across broad categories of goods and services, from housing to apparel to recreation, has moderated. Most notably, inflation for services outside of energy, which makes up 72% of the core consumer price index and tends to be less sensitive to economic slowdowns, has fallen from 3.9% last year to 3.2% in August.
OF COURSE, PRICES of energy and food matter to overall inflation, and they can influence inflation expectations, a central concern of Fed policymakers. Since the Fed's rate cut, long-term Treasury yields have risen, a counterintuitive jump some attribute to higher expected inflation, which is a driver of bond yields.
Expected inflation, measured by the difference between the yield on a 10-year Treasury note and a Treasury inflation-protected security (TIPS) of the same maturity, has picked up. However, the rise is from low August levels not seen in more than 3 1/2 years, and the current reading is well within the range of the past year. Also, the increase in expected inflation accounts for less than half of the overall rise in market yields. That suggests higher rates also reflect two things: a reversal of the flight to quality that had lifted Treasury demand and pushed yields lower in July and August, plus investors' belief that Fed rate cuts will help to avoid a recession.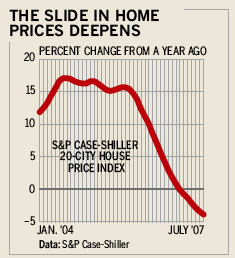 Inflation worries are also swirling around the dollar's decline, which tends to put upward pressure on prices of imported goods. However, the drop since the greenback's peak in early 2002 has been primarily against major currencies, where the trade-weighted dollar is down 33%. Against the currencies of all other economies, which account for 45% of U.S. trade, the U.S. unit is down only 6%.
Plus, many countries tend to hold the line on the prices they charge in the U.S., even when their currencies rise. For example, prices of imported consumer goods excluding autos are up only 1.4% from a year ago, while imported autos are up only 0.9%. And the CPI shows no upward pressure on retail prices in key import-related areas: Through August, the yearly inflation rate for apparel is 1.4%, while that for new autos is 0.9%.
Many investors will continue to fret until it becomes clear that the Fed has not awakened the inflation beast. However, for pricing pressure to accelerate, the economy would largely have to escape the negative impacts of the credit crunch, an extended housing slump, and falling home prices. That just doesn't seem likely.
By James C. Cooper
Before it's here, it's on the Bloomberg Terminal.
LEARN MORE