Payouts: Buying Trouble Down The Line
Corporate profits are on an amazing run during this economic expansion. Yet businesses appear reluctant to take those earnings and reinvest them in capital projects. Instead, more money is going to shareholders in the form of dividends. The trend could have important long-run implications for the economy.
Although total domestic profits earned by nonfinancial corporations were near a record high in the second quarter, capital spending fell 0.7% from a year ago, according to the Federal Reserve's latest figures.
Instead of ramping up purchases of new computers and machinery, companies are rewarding investors. Dividends are up more than 21% from a year ago. Smaller companies are likely driving the growth in dividends, according to JPMorgan Chase (JPM ) economist Michael Feroli. S-Corporations, businesses whose earnings are treated as taxable income of the shareholders and escape federal corporate profits taxes, accounted for about 40% of all nonfinancial dividend payouts in 2004, up from 20% in 1991, according to the latest Internal Revenue Service data.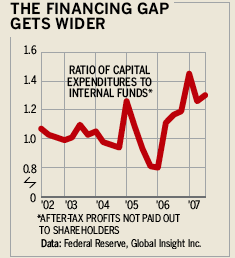 Fatter payouts are creating a financing gap. That is, capital spending exceeds internally generated funds, increasing the need to borrow. In 2005, internal funds, which are aftertax profits not paid to shareholders, more than covered investments. Now, dividends have picked up, and capital expenditures are 30% greater than internal funds.
The larger gap comes at a time when credit is tighter, which may make it tougher for companies to keep up their investment and dividend outlays. And some smaller corporations may be more financially vulnerable now, according to Feroli.
However, there's a more serious longer-term issue. "The increase in dividends suggests that profitable investment projects might be relatively scarce," says Feroli. If companies are not investing in more efficient equipment, it could depress productivity, with negative influences on future economic growth and inflation.
By James MehringBy James Mehring
Before it's here, it's on the Bloomberg Terminal.
LEARN MORE