Price Pressures From Abroad
Despite the more favorable inflation numbers of late, upward risks still lurk in the economy. One area where price pressures will keep building is from abroad where a weakening dollar and above-trend global growth are aligned to keep pushing up the cost of imports.
On the surface, August import prices looked pretty benign, falling 0.3% from the prior month. But the decline was led by a drop in energy prices, which look set to turn higher with oil above $80 per barrel. Outside of energy, prices for key imports such as consumer goods, vehicles, and capital equipment increased at the fastest yearly rate since early 1996.
The weaker dollar is a big factor. It's down 21.5% against all other currencies on a trade-weighted basis since 2002. In particular, the stronger yuan is reversing the long-running trend of declining prices for goods from China. Through August, third-quarter prices of Chinese goods are up at an annualized rate of 3.4%.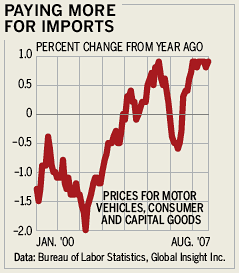 Further dollar declines would push up import prices. While the Federal Reserve cut interest rates by a half-point on Sept. 18, most other central banks are either holding steady or raising rates. The growing difference between U.S. and foreign rates will likely weaken demand for the greenback.
A resilient global economy would maintain price pressures by keeping the heat under commodities. Even if the credit crunch slows global economic growth, the pace will stay above the long-term trend prior to the recent boom, and demand for commodities by China and other emerging economies will remain strong, says Michael Englund, chief economist at Action Economics, a forecasting firm.
Higher import prices will keep the Fed thinking about inflation. Indeed, despite enough concerns about the economy to lower interest rates more than expected, the Fed still believes there are inflation risks out there. That could cause the central bank to take back any rate reductions once the financial markets and the economy appear to be on sounder footing.
By James Mehring
Before it's here, it's on the Bloomberg Terminal.
LEARN MORE