The Detroit Tigers Are Roaring Again
Owner Mike Ilitch made risky movesand threw good money after badto turn around this struggling city's big league team
David Welch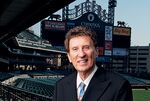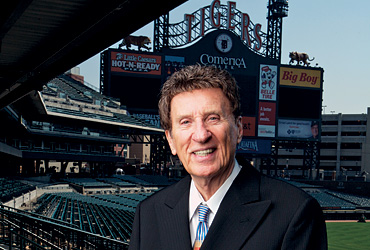 It's a warm, late August evening at Comerica park in downtown Detroit, and the hometown Tigers are chasing the New York Yankees for the fourth and final playoff spot. The atmosphere is electric, and the sellout crowd is on its feet as the Tigers keep slamming away en route to a 16-0 victory. Over the four-game set against the Bronx Bombers, 170,000 fans filled every seat, with some paying $15 to stand on a balcony over the right-field wall. By mid-September, the team would draw a record 3 million, double the attendance in 2003.
The Tigers have become a hot ticket, not to mention a real turnaround story in a town hungry for comebacks. The team's resurrection isn't just on the field, either. Not only is attendance up, but almost every patch of advertising space in the stadium is sold out. Owner Michael Ilitch says he made money for the first time last year since he bought the franchise in 1992.
One reason is that making it to the World Series last year helped double season ticket sales, to more than 19,000 seats. Still, says Ilitch in a rare interview: "Building baseball was tough for me. It's an expensive sport. You lose a lot of money."
Pulling Out the Checkbook
How did Ilitch turn this money-loser into a winner? He threw good money after bad. In 2001, after a decade of mostly losing seasons and Gatorade buckets of red ink, Ilitch went for broke. He replaced a front office that had produced so many bad teams and went after Dave Dombrowski, whom Ilitch had watched build the Montreal Expos on a shoestring in the early 1990s and then put together a Florida Marlins club that won a World Series in 1997.
Promising to plunk down the cash for good players, Ilitch hired Dombrowski as general manager and president and brushed the mothballs off his checkbook. "They say you have to spend money to make money," says Dombrowski. "Mr. I is that way."
So the question that looms large is: Why wasn't he that way for the first decade that he owned the Tigers? After all, this is the same guy who built Little Caesars Pizza from the ground up. This is the same guy who revamped the hapless Detroit Red Wings—a hockey club so bad locals nicknamed it the Dead Wings—and went on to win three Stanley Cups in the past decade.
A Veteran of the Tigers' Farm System
And this is the same guy who was a shortstop in the Tigers farm system back in 1950s. But Ilitch endured a decade of Tigers GMs who made bad trades, showed no knack for selecting talent, and racked up a losing record that turned fans off. "I didn't make the right choices in hiring," Ilitch says. "I wasn't spending because it was all in disarray."
When Ilitch, now 78, had finally had enough depressing seasons, he went for broke and took chances too scary for most owners. He and Dombrowski needed a big name to show other star players they were serious about a turnaround. So they started courting future Hall of Fame catcher Ivan "Pudge" Rodriguez, a perennial All-Star.
Dombrowski says their expectation was that "people would say if Pudge was willing to go [to Detroit], they must be committed to change." There were two red flags, though. Rodriguez was not only an aging star, but he had a bad back. Before signing the catcher in February, 2003, Ilitch met him at a hospital outside Detroit where doctors were checking him out. He convinced Rodriguez that, despite the fact that the Tigers had just lost a near-record 118 games, he would build a winner.
Bagging Big Names with Physical Baggage
Rodriguez seemed game, but the doctor's exam "wasn't a good report," Ilitch says. "You generally don't go against a doctor's assessment." But he did. Ilitch signed the catcher for $10 million a year.
Even after bagging Pudge, Dombrowski says the Tigers were getting feelers only from big names with physical baggage. Slugger Magglio Ordonez came on board from the White Sox for $15 million a year, after he had just had major knee surgery.
While most teams would have shied away from rolling those dice, both deals have paid off, culminating in a trip to the World Series. That performance helped Dombrowski lure slugger Gary Sheffield from the Yankees for over $14 million a year.
What's the lesson for other franchises? Despite the burden of a $101 million payroll, which has more than doubled since 2003, the Tigers are making money. Even when the team bleeding cash, Ilitch's other businesses were raking it in, often helped by relationships with the Tigers. His Little Caesars Pizza empire sells a lot of pies at Comerica. And Ilitch profited nicely from real estate developments that skirt the ballpark, which he built with state assistance in 2000. Still, Ilitch says neither the pizza nor the real estate deals offset team losses.
MLB Assistance Will Keep Dropping
That was then. Now Ilitch says the Tigers are a legitimate money-maker. One indication of their improving financial health: Team revenues are up 11% this year, to an estimated $180 million. Of course, with revenues up, the Tigers will get less from Major League Baseball's revenue-sharing program, which funnels cash to poorer teams to help level the playing field. And league assistance will keep dropping as revenues rise and the Tigers pay down debts.
But the franchise should be able to thrive without MLB largesse. Detroit isn't a small market like Pittsburgh or Kansas City. It's a sports-crazed town of 5.5 million people. "Ilitch realized that he has one of the bigger markets and a new park," says Andrew Zimbalist, professor of sports economics at Smith College. "If he plays it right, he can make out on his investment. He's looking at a Red Sox-type business model."
To even get mentioned in the same breath with the Red Sox, Dombrowski had to rebuild the organization that underlies any team. In 2003, the year after Dombrowski joined, Baseball America rated the club's minor league system 29th out of 30 teams. So Dombrowski started bringing in talented scouts. Now, Baseball America ranks the Tigers farm system 14th in the league.
Ilitch says he has hit his first goal with the Tigers, which was drawing more fans than the Red Sox. That took some savvy marketing. With Detroit's economy suffering, the team had to offer value deals, says Bob Raymond, Tigers vice-president for ticket sales. Now on weeknights, families can get four tickets, hot dogs, and drinks for $63. Last season, Ilitch gave away a General Motors (GM) car at every weekend game.
Going After Boston and New York
Filling the stands is just part one of Ilitch's strategy. Next, he wants the Tigers to be serious rivals of the Yankees and Red Sox in the pennant race every year. His plan is to build a first-rate farm system (he just inked high school pitcher Rick Porcello to a $7.3 million deal) and fill in the gaps with big-name veterans. Despite a fattening payroll, he still spends half what George Steinbrenner does and two-thirds of what the Sox shell out. But Ilitch has his boundaries. He won't go after Yankees star Alex Rodriguez if he's available after this season. "That could take $30 million," Ilitch says. "We're not ready to make that leap."
Although a string of injuries crippled this season's playoff bid, Ilitch thinks the Tigers can be consistent contenders. Having spent so much to turn around the team, he has to believe. Should fans again desert the club, he would be left with expensive contracts and falling revenue. "If you fall down in the [standings] and attendance drops, it's a risk. It's dangerous," he says. As Mr. I knows, you can't steal second and keep your foot on first.
Before it's here, it's on the Bloomberg Terminal.
LEARN MORE