James Delany
On his watch, the Big Ten Conference "has become a major corporation"
Geoff Gloeckler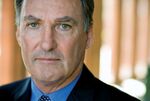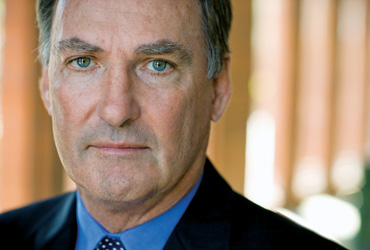 James E. Delany has never been one to walk away from a fight. For nearly two decades he has presided over the Big Ten—one of the oldest and most profitable college sports conferences, which includes everything from basketball to track and field. In that time he has taken on all comers—university presidents, athletic directors, crazed fans, Congress—all, he says, with the aim of improving college sports.
Most recently, Delany, 59, has been tangling with cable executives who are reluctant to carry the Big Ten Network, a new partnership with Fox (NWS) that carries a mix of games and classic sports highlights. Pushing around the cable guys is hard enough for media moguls, let alone a league commissioner. But for the most powerful man in the most powerful conference, it's just another battle he intends to win. "Jim is part of the Big Ten team," says Myles Brand, director of the National College Athletic Assn. "He's going to do everything in his power to make sure his team wins."
Delany has been throwing his weight around since joining the Big Ten in 1989. He led the push for gender equality; he helped negotiate a multibillion-dollar deal with CBS Corp. (CBS) for rights to the NCAA basketball tournament; he added Penn State to his roster of schools, as well as $95 million to his conference's revenues. "The Big Ten has become a major corporation," says Lee Corso, football analyst on ESPN's (DIS) College GameDay. "And it's because Delany runs it that way."
For the most part, Delany keeps a low profile. A former athlete—he played basketball at the University of North Carolina at Chapel Hill—he says he was probably more widely recognized when he was 20 years old than he is now. "But that's not a bad thing," he says.
He may be alluding to his support for the oft-criticized Bowl Championship Series (BCS). In the eyes of many fans, Delany is standing in the way of a real football playoff. Fans want a matchup more like the one used in college basketball, where teams are divided into brackets and compete in a single-elimination, winner-take-all tournament. Instead, teams make the cut based on a complex equation of polls and computer averages.
A sports fan himself, Delany understands the appeal of a playoff. But his fear is that such a setup would erode the value of the regular season. For his 11 schools, the excitement—and ticket sales—generated by regular season games are unmatched. Take away the importance of the regular season by introducing a playoff, and the attendance numbers could plummet, along with revenues. "It's simply not in our best interests," Delany says. "We started the BCS to create a healthier bowl environment. We didn't see it as a first step toward a full-fledged NFL-style playoff."
The debate over the BCS isn't likely to disappear, but Delany hopes the obstacles standing in the way of the Big Ten Network can be worked out sooner rather than later. "We found a good partner in Fox and a willingness from our schools to take some risk on it," Delany says. But persuading the cable guys remains a challenge. Delany wants the network to be part of the basic cable package in Big Ten states and is looking for around $1 per subscriber. So far the five major cable companies have balked. "There are only eight networks that get more than 50¢," says Derek Baine, senior media analyst at SNL Kagan. "I don't think that kind of a rate is going to fly." For now, the Big Ten Network is available only on DirecTV (DTV), EchoStar (DISH), and Insight Communications—the ninth-largest U.S. cable provider. Comcast Corp. (CMCSA) has ended talks about adding BTN, but Delany remains typically undaunted. "I'm hoping a year from now things will feel better for everybody."
Before it's here, it's on the Bloomberg Terminal.
LEARN MORE