Big Leaguers You've Never Heard Of
It's not all about TDs and homers, or even owning the team. These sports power players make their mark in the clothing store, on the drafting tableeven in the operating room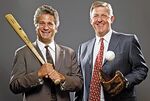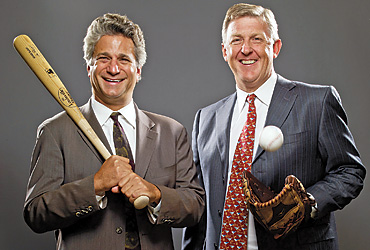 The Power 100 is made up of larger-than-life figures who are in the limelight because of their job titles, playing careers, or the bankroll they control. They are the movers and shakers in sports. But there are others out there who may not be household names, yet they play major roles, too. Here are some of the most notable, as compiled by Tom Lowry, Geoff Gloeckler, Mark Hyman, and ESPN The Magazine.
Joseph Ravitch and Greg Carey
Managing directors, Goldman Sachs (GS)
If in the past few years you have been looking to buy or sell a team, finance a new stadium or refinance your current one, launch your own TV channel, or slap a corporate name on an arena, chances are Ravitch and Carey have been part of the discussion. "We are competitive on every deal going out," says Carey, whose specialty is financing new arenas. Among those projects: the new Yankee Stadium ($968 million) and the Giants portion of a new Meadowlands stadium ($650 million). Says Yankees President Randy Levine: "With these guys, you know the expertise is going to be there."
Executives like the fact, too, that the Goldman team has deep relationships. Ravitch, for example, is also co-head of the firm's media investment banking practice, so as a schmoozer in that world his advice is all the more welcome by sports executives. Among his deals, he helped advise the NBA on its recent creation of a separate unit to develop the league in China and on the sales of the Seattle Supersonics ($350 million) and the New Jersey Nets ($300 million).
Dr. James Andrews
Surgeon
A renowned orthopedic surgeon who has operated on hundreds of professional athletes, Andrews routinely protects the multimillion-dollar investments of nervous team owners. He's best known as the surgeon who major league pitchers see for new elbows. Although he didn't invent it, he performs hundreds of so-called Tommy John surgeries each year.
Steve Shore and Barry Prevor
Founders and CEOs, Steve & Barry's
Their idea was simple: Offer affordable licensed sportswear and people will buy it. It worked. Case in point: Starbury Twos, the exact shoe worn on-court by New York Knick Stephon Marbury, which sells for $14.98. Next up: the EleVen line of athletic wear, designed and worn by tennis star Venus Williams.
Randy Freer
President, FSN Networks
Freer has been instrumental in boosting the business of local sports coverage on cable through Fox's 19 regional sports networks, which reach more than 80 million homes. FSN, with revenues of more than $1.5 billion, controls the local sports rights of nearly two-thirds of NBA, NHL, and MLB teams.
Will Leitch
Blogger, Deadspin.com
Leitch's daily posts, written in his Brooklyn apartment, garner thousands of unique page views. He's the go-to source for inside information on everything from team controversies and gossip to breaking news—peppered with his own brand of snarky humor.
Joe Spear and Earl Santee
Architects, HOK Sport
Between them, they have worked on designs and renovations for more than 20 baseball venues, including Oriole Park at Camden Yards in Baltimore and Jacobs Field in Cleveland, the two stadiums that began a craze for retro ballparks. Next up: new parks in Miami and Washington, and, of course, Yankee Stadium in New York.
Former Senator George Mitchell
Steroids investigator, MLB
For the past 18 months, Mitchell and his team have been interviewing players, doctors, pharmacists—anyone who can shed light on the steroids/HGH issue hovering over Major League Baseball. If his much-anticipated report names names, it will shake up baseball.
Warren Legarie
Agent for NBA coaches
When a team is looking for a new head coach or GM, chances are they go to Legarie first. He's the agent for almost a dozen A-list NBA coaches and front-office personnel. But his crowning achievement is the four-year-old Las Vegas Summer League, a two-week event where NBA teams send top talent to sharpen their skills in the off-season. The Vegas Summer League is so successful that the NBA invested in it this year.
Steve Clarkson
Quarterback guru
Joe Montana entrusts both his sons to Clarkson's tutelage. The 45-year-old Clarkson learned quarterbacking in the 1980s while starting for three seasons at San Jose State. After a brief stint in the Canadian Football League, the native Angeleno returned to southern California to tutor kids on the basics of the position. Two decades later he has built himself a who's who roster of clients. Clarkson commands $3,000 plus travel expenses for a private talent evaluation, then an additional $1,000 per four-hour session.
Steve Greenberg
Dealmaker
The son of baseball Hall of Famer Hank Greenberg rose to prominence as the deputy commissioner of MLB. These days, as part of investment firm Allen & Co., Greenberg drums up lots of business in Major League Baseball—he recently brokered the sale of the Brewers and Braves and was instrumental in building Pittsburgh's PNC Park and the Mets' new stadium. In 1995, Greenberg co-founded the Classic Sports Network, which was bought by ESPN and renamed ESPN Classic. He did the same with CSTV, which he sold to CBS in 2005.
Before it's here, it's on the Bloomberg Terminal.
LEARN MORE