A Family Feud Jeopardizes a NASCAR Brand
Dale Earnhart Jr.'s power struggle with his stepmother, Teresa, ends up with Step-Mom taking back the keys to the car
Paula Lehman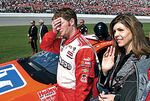 February 2001: NASCAR icon Dale Earnhardt is killed at the Daytona 500. His wife, Teresa, the stepmother of Dale Jr., takes over as CEO of Dale Earnhardt Inc., which she and Earnhardt had founded in 1980.
June 2003: Dale Jr. turns down a lifetime deal with DEI during contract talks. He tells reporters he was "always going to wonder what it would be like to drive for somebody else."
Winter 2005: In the off-season, with Teresa in charge, the decision is made to switch Dale Jr.'s and Michael Waltrip's crew chiefs and cars. The result is a losing season for Junior.
December 2006 to January 2007: A verbal battle begins between Dale Jr. and his stepmother. In December, Teresa tells The Wall Street Journal, "[Dale Jr. has] to decide on whether he wants to be a NASCAR driver or…a public personality" The comments come after Dale Jr. made a 14-place improvement in the standings for the 2006 season. A month later, Dale Jr. calls his relationship with Teresa "black and white, very strict, in your face…it ain't a bed of roses."
February 2007: Dale Jr., represented by his sister Kelley, meets for contract talks with Max Siegel, a music executive newly appointed as president of global operations at DEI by Teresa, who had removed herself from the negotiations. Soon after, Dale Jr. tells reporters he wants majority ownership of DEI before he re-ups.
May 2007: Dale Jr. announces he's leaving DEI. Aside from Junior's victories, the team hasn't won a race in three seasons. Forbes values the company at $57 million but says it would be half that were Junior to leave.
June 2007: Dale Jr. announces he will drive for Hendrick Motorsports Inc.
August 2007: DEI says it will retain Dale Jr.'s signature No. 8 car, a decision Junior says was "upsetting as hell." He tells reporters Siegel tried to compromise but Teresa wouldn't budge.
September 2007: DEI announces that when the 2008 NASCAR season begins, Mark Martin and Aric Almirola will split driving duties in the No. 8 car. Dale Jr. announces he will drive No. 88, sponsored by PepsiCo 's (PEP) Mountain Dew Amp Energy drink and the National Guard.
Before it's here, it's on the Bloomberg Terminal.
LEARN MORE