Exports: The Economy's Secret Weapon
A narrowing trade gap will offset some of the housing-related weakness
After the news that company payrolls dipped in August for the first time in four years, forecasters are raising the odds on a U.S. recession. But the economy may have an ace in the hole. Foreign trade has become increasingly important to economic growth. Over the past year, a narrowing U.S. trade deficit made the largest contribution to growth in 14 years, and the pattern is likely to continue well into 2008.
The housing recession and tighter credit conditions may even accelerate that trend: As U.S. demand slows, so will imports. At the same time, solid growth overseas and a new downturn in the dollar will continue to power U.S. exports, and that will boost U.S. manufacturers' revenues and profits. In fact, this may well mark the beginning of the long-awaited realignment of global growth that will rebalance trade and capital flows between the U.S. and the rest of the world.
Speaking on global trade imbalances, Federal Reserve Chairman Ben S. Bernanke said in Berlin on Sept. 11 that he saw signs of progress but noted that the process will be slow. "Most countries have only just begun to undertake the policy changes that will be ultimately needed," he said. More progress is necessary in both private and government saving in the U.S., in combination with structural economic reforms in many areas outside the U.S.
Since the late 1990s, the U.S. has been consuming more than it has been producing to an ever-rising degree, as reflected in the ballooning current account deficit, the broadest measure of U.S. obligations. Last year the gap, comprising the trade deficit and some other financial transactions, had risen to a record 6.2% of gross domestic product, from a mere 2.5% in 1998. Totaling $811.5 billion last year, the chasm between U.S. consumption and production required an equal amount of foreign capital to finance.
NOW, THE TIDE IS TURNING. Higher oil prices have boosted the trade deficit in recent years, but in real terms—that is, after adjusting for shifting prices—the gap was clearly at its largest at the end of 2005 and has been shrinking since. Even with costlier oil, the broader current account deficit also has narrowed appreciably through the second quarter of 2007, and it is set to decline this year for the first time since 2001.
The turn comes at an opportune time, as the economy faces more housing-related weakness. Last year homebuilding subtracted about a percentage point from the economy's growth rate, and it will exert about the same drag this year. A wider 2006 trade gap was an added drag on growth, but this year trade is on track to make its first positive contribution since 1995.
A sharply smaller trade deficit contributed a beefy 1.4 percentage points to the second quarter's 4% growth in real GDP. It was the biggest quarterly boost since 1996. Economists doubt that pace can be sustained, but they generally think a narrowing gap could add at least half a percentage point to growth, both this year and next.
The improving trend continued in July. The monthly trade deficit for goods and services edged lower, to $59.2 billion, from $59.4 billion in June. Adjusted for prices, the news was even better, especially for the goods part of the balance, which mades up all of the shortfall, since the service side was in surplus. The real deficit for goods shrank to its lowest level in nearly three years.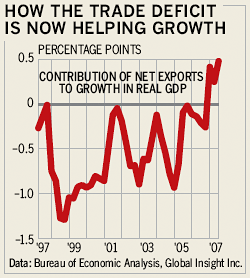 The power behind the trend in U.S. trade is on the export side of the ledger. Real shipments of goods jumped 3.5% from June, the biggest monthly gain since early 2004, lifted by demand for autos, aircraft, and telecom equipment. At the same time, real imports of goods continued to rise, but at a slower rate this year as U.S. domestic spending has cooled.
THE GREAT POTENTIAL for an even narrower trade gap in 2008 shows up in the relative growth rates for exports and imports so far this year. Through July, real exports of goods have grown 7.7% from the same period the previous year, while imports are up 2.4%. Consider that because imported goods are more than 60% greater than exports, the growth rate of exports has to be at least 60% faster just to hold the deficit steady. Until last year, that was a tough hurdle. But so far this year exports are growing more than three times faster than imports.
The fuel under exports comes from a robust global economy and a competitive dollar, and both factors will continue to offer support. In early September the trade-weighted dollar hit a record low against a basket of major currencies, and hovered near a 10-year low vs. all trading partners. That drop has effectively cut the price of U.S. products in foreign markets, while making imports more expensive in the U.S.
Heading into 2007, the greenback had fallen 18% against all currencies since its peak in early 2002, and since the beginning of this year it's down an additional 4.1%. Two factors that tend to increase the attractiveness of assets outside the U.S. argue for a further decline: Growth prospects abroad continue to look brighter than in the U.S., and the Fed appears set to reduce interest rates while other central banks are in a holding pattern. And the prospects overseas are for further increases as the credit crisis abates.
THE CREDIT CRUNCH is bound to take a nick out of the nearly 5% global growth expected this year. But what's different about growth overseas now is that foreign economies are increasingly driven by homegrown demand, with less dependence on exports to the U.S. Growth abroad has not become completely uncoupled from the U.S. business cycle, but it is now better able to weather a U.S. slowdown. In particular, the enormous new influence of China and India, and their impact on emerging markets in Asia and around the globe, will help to keep demand for U.S. goods vibrant.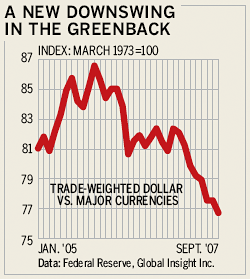 Clearly, this upbeat trade outlook could be undermined, especially as uncertainty over the pricing of many mortgage-related assets continues to throttle key areas of the financial markets. One risk: that the credit crunch becomes so pervasive it ultimately chokes off foreign growth, to the detriment of U.S. exports. Another is a plunge in the dollar sharp enough to disrupt international capital flows and put additional pressure on foreign economies. Finally, any U.S. move toward protectionist measures, which could crop up heading into 2008 elections, would dampen prospects for improving trade, especially if it spurred retaliation abroad.
But globalization actually helps to reduce these risks. The rapid response of monetary policy to the financial-market mess is quickly felt in markets worldwide. The growing wealth of economies abroad offers plenty of foreign savings for the U.S. to tap in managing its overseas obligations, thus providing support for the dollar. And world economies are becoming more dependent on one another for growth. China is now the No. 4 destination for U.S. exports. That helps make the downside of protectionism increasingly clear.
By James C. Cooper
Before it's here, it's on the Bloomberg Terminal.
LEARN MORE