Credit-Card Balances Are Ballooning
Consumers are turning to their credit cards to keep shopping now that most households can't use their home equity as a virtual ATM. Solid hiring and wage gains have let people rack up larger debt balances with few problems. Now relying on plastic could place more stress on consumer finances, which ultimately could lead to a pullback in spending.
Since the housing downturn got under way in 2006 the growth in consumer installment debt has accelerated, driven by swelling credit-card balances. Over the latest 12 months through July, revolving credit increased 6.4% from the prior year, while nonrevolving debt, which includes loans for vehicles, mobile homes, and education, rose 3.6%.
Shoppers are likely to use their credit cards more frequently now that the holiday season is approaching, says Mark Zandi, chief economist at Moody's Economy.com. But the financial supports that have let consumers rack up debt with little stress to their balance sheets look far less likely to be in place this winter. "Home values are falling, the stock market is flat at best, gas prices are not going lower, and the job market is now softening," Zandi says.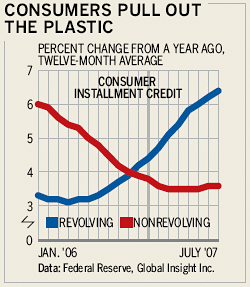 There are some nascent signs of trouble. Credit-card delinquency rates are beginning to tick up modestly in regions where the labor and housing markets are weakening the most, including in California, Florida, Nevada, and the Midwest.
If the financial market turmoil clears up soon, the damage to the economy and hiring should remain pretty limited. But if continuing troubles in the credit and housing markets should result in meager job growth—at a level similar to August's increase in private nonfarm payrolls of just 24,000 workers—that would lead to measurably higher credit-card delinquency rates by this time next year, according to Zandi.
That would ultimately force consumers to rein in their spending, putting more downward pressure on the labor market and the economy.
By James Mehring
Before it's here, it's on the Bloomberg Terminal.
LEARN MORE