A Tug-of-War at Habitat for Humanity
CEO Reckford says a new governing agreement will protect the charity's brand. Affiliates worry it will bring bureaucracy and a loss of autonomy
Emily Keller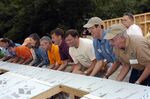 Two years into the job, Habitat for Humanity International Chief Executive Jonathan T.M. Reckford is priming the homebuilding charity for a growth spurt. For more than three decades, Habitat has relied on a sparse, three-page document to outline its relationship with affiliates. But now it's putting the final touches on a 26-page agreement that Reckford says will protect the Habitat brand, create uniform standards and consistency among affiliates, and assure financial accountability to donors.
The document, expected to be released in final form next month, marks Habitat's first move toward formalizing its relationship with more than 1,600 domestic affiliates. But it has led some in the Habitat community to grumble that Reckford—a former Walt Disney (DIS), Circuit City Stores (CC), and Best Buy (BBY) executive—could be constructing far more bureaucracy than homes in his quest to sharpen and expand the organization, which has become a marquee partner of corporate social-responsibility programs. In its 31 years, the nonprofit Christian organization has built more than 225,000 homes in 100 countries.
While generally supportive of tightened operating standards, some Habitat officials have expressed consternation over certain clauses in the proposals. They worry that the parent organization is staging a power grab and pressing smaller affiliates to merge, and they wonder whether International will siphon funds from local donors. Also unclear is what would happen to an affiliate's assets if it decided to split with Habitat but continue operating. Indeed, an initial draft of the new document prompted some anxious local officials to consult an attorney about the implications.
The new agreement requires every affiliate to build at least three homes every three years, restrict external funding sources to 30% of its budget, and abandon potential family partners who have significant financial trouble or show up in a sexual-offender database. The agreement also gives Habitat International the right to inspect e-mails and other documents of affiliates on probation, details new record-retention policies and safekeeping of mortgage documents, and requires each affiliate's board to adopt a thorough construction-safety policy.
Preventive Maintenance for Growth
Reckford took the helm in August, 2005, from founder Millard Fuller, who left Habitat that year following an accusation of sexual harassment, which was denied by Fuller, and differences with the organization. Fuller is critical of Reckford's approach. "I always saw Habitat for Humanity as a ministry, and I think they see it more as a corporate bureaucracy," says Fuller. "A ministry, by definition, can be a little messy."
Reckford, who began his career as a Goldman Sachs (GS) analyst, says the agreement contains very few large-scale changes and calls it preventive maintenance and a foundation for growth, one of his top goals. "We have no desire for Habitat to become a business. But from a stewardship perspective, given that we are using other peoples' money to serve God's need, we should have a higher standard."
Habitat took in $357 million in revenues in the fiscal year ending June 30, 2006, compared with nearly $198 million the year before, according to the organization's financial statements. (The 2007 results aren't yet available, Habitat says.) Reckford attributes the rise, in part, to donations for recovery efforts after hurricanes Katrina and Rita, which totaled $126 million with pledges, according to Habitat's 2006 earnings report, and to donations in response to the 2004 Asian tsunami.
Hampering Innovative Practices?
Many affiliates say the agreement merely requires them to fine-tune existing practices. "It's something that I think a large organization has to have, and there's nothing in this agreement that threatens anyone," says Norman Wilbur, executive director of the Dallas affiliate.
Others, however, fear that standardizing procedures could stifle innovative practices from financing to outreach methods designed to accommodate local conditions, possibly hampering the very growth intended.
Affiliates have historically embraced Habitat's Christian principles as they deemed appropriate, but will now be required to link the organization with Christianity on public relations materials, which poses challenges in areas like New York City, where Habitat has a religiously diverse board of directors. "I don't think that anyone in Habitat for Humanity International would be opposed, but the way we present our message here would be very inclusive and open," says Josh Lockwood, acting executive director of the New York affiliate.
Concerns Remain About Latest Draft
Affiliates are also concerned about a clause allowing Habitat International to raise funds from nonlocal donors and build homes in their service areas—a practice that maximized Habitat's response to Hurricane Katrina but could create competition.
"That's a real change from what Habitat International has been," says Larrie Del Martin, executive director of the Atlanta affiliate, who helped organize a legal response to the agreement's first draft, which was circulated to some affiliates last November. "There's a real lack of clarity and concern that Habitat will just come into any area and do whatever they want to do."
Phillip Bradley, a partner at the Washington and Atlanta offices of McKenna Long & Aldridge who is general counsel for the Atlanta affiliate, says the latest draft shows improvements to provisions about information access, discipline measures for underperforming affiliates, and representation on Habitat's U.S. Council. But he remains concerned about the termination and service area provisions.
According to the agreement, Habitat International may be able to take control of a terminated affiliate's remaining assets through a written agreement between the two, and may transfer assets, including mortgages, to another nonprofit if the affiliate ceases operations but fails to dissolve its corporate existence. "If for some reason some affiliates were to have some falling out with International, the question would arise: Could the affiliate, without using the Habitat name, continue to operate [an affordable housing organization], or would it have to turn over assets to International?" says Bradley.
No Corporate Comment
Habitat says one of the primary reasons for the new affiliate agreement is to increase accountability for donors. Yet several major companies declined to comment, saying they're not familiar with the proposed changes. A spokesman for Whirlpool WHR, which has given $34 million in cash and in-kind donations over its eight-year history with Habitat, says the appliance maker has not seen the document.
The agreement comes on the heels of additional changes made by Reckford to the organization, which include accepting government funds for homebuilding, establishing a $100 million, four-year partnership with financial services organization Thrivent Financial for Lutherans, and receiving a pact from Whirlpool to expand its donations to overseas homeowners by 2011. Habitat also has hiked salaries and opened an office in Atlanta, where Reckford works, to aid recruitment of employees reluctant to move to the small southwestern Georgia burg of Americus, where the organization started.
"In the past two years there has been a pretty clear shift that it's not all about the Habitat way," says Brian Miller, executive director of the Dane County affiliate in Madison, Wis., citing an increased push for housing-advocacy work. "We're kind of coming out of our own focus, sort of an uncapping of what it means to be Habitat."
Reckford, who left the corporate world in 2002, then volunteered at a Presbyterian church in Edina, Minn., and became a pastor there two years later, denies running Habitat like a corporation, saying he bases his decisions on maximizing impact. Yet under Reckford's leadership, the number of countries with Habitat affiliates has dropped from about 100 to 90, and the organization has begun charging interest on international homeowners' mortgages—a practice Fuller says violates Habitat principles. Reckford calls the interest "a mechanism for recapturing inflation," and says those fees are funneled to further homebuilding so that international affiliates are sustainable.
Brand Building Vs. Autonomy
Roland Lewis, former director of the New York affiliate, says Habitat is paying too much attention to protecting the brand at the expense of fulfilling its obligations to affiliates. "From a business perspective, they're in danger of losing sight of the core business, which is house production," says Lewis, who supports the basis of the agreement but says affiliates should have governance and management rights toward the international organization in return.
But Miller defends the focus on branding. "People around the country and the world don't necessarily catch the distinctions between Habitats," says Miller, contending that missteps by one affiliate affect them all. "It's sort of like one Habitat, like the Red Cross. We're intimately tied together."
Even affiliates critical of the revisions are optimistic that Reckford and his team will accommodate their requests for changes before the final draft is released. "I'm hopeful that we will learn from it and go forward because we've got a lot of houses to build," says Del Martin of the Atlanta affiliate. "We don't need to be spending our energy on this type of effort."
Before it's here, it's on the Bloomberg Terminal.
LEARN MORE