The Earnings Engine Is Sputtering
Corporate earnings have defied gravity for quite a while, growing faster than expected even as the pace of economic growth slowed. But troubles in the financial markets and a softer economy are about to pull profits back down to earth.
In the second quarter profits turned in another strong performance, with the Bureau of Economic Analysis reporting a quarterly increase of 6.4%, the biggest gain in over a year. Solid global growth and an upswing in stocks helped fuel profits from abroad and among domestic financial operations.
However, the recent liquidity and credit squeeze in the financial markets along with the housing recession are starting to hit bottom lines. According to Thomson Financial (TOC ), analysts have cut back third-quarter earnings estimates by over $2 billion for the financial sector, dragged down by investment banks, mortgage lenders, and consumer-finance companies.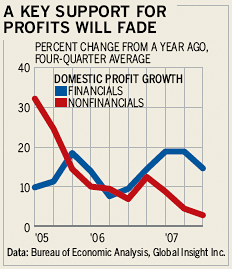 That threatens the impressive run of earnings growth among financial companies. Over the previous four quarters, domestic profits for financials were up 14.5% from the prior year, significantly better than the 2.8% gain among nonfinancials.
The turmoil on Wall Street could trim U.S. economic activity, putting pressure on profit growth at nonfinancial firms. "The recent tightening in financial conditions likely will deepen and prolong the housing downturn," writes Morgan Stanley (MS )chief U.S. economist Richard Berner in a research note. That could hurt consumer and business spending in the U.S.
What's more, the spread of tighter credit conditions and higher interest rates to foreign markets, particularly in Europe, could crimp global economic growth and soften earnings from abroad. Indeed, on Sept. 5 the Organization for Economic Cooperation & Development trimmed their forecasts for both the U.S. and Europe.
After a string of quarters with profits outpacing estimates, the confluence of recent events could lead to negative earnings surprises in the near future.
By James Mehring
Before it's here, it's on the Bloomberg Terminal.
LEARN MORE