MySpace Goes Hollywood
The social networking Web site will distribute videos from big-time producers in an effort to counter rival Facebook
By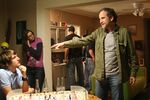 Tired of watching skateboarding dogs and exploding diet cola bottles? MySpace.com, in a race to keep users from sampling such consumer-generated videos on YouTube (GOOG) and other sites, is going Hollywood. The online social network owned by News Corp. (NWS) has been taking meetings, holding power lunches, and returning calls from well-placed agents to lengthen a growing lineup of professionally produced videos for its large (and increasingly over-30) audience.
The most recent case in point comes Sept. 13, when MySpace will announce it has signed with Marshall Herskovitz and Edward Zwick, producers of the Leonardo DiCaprio film Blood Diamond and the 1980s TV show thirtysomething, to distribute via MySpace a series of 8-minute videos called quarterlife.
The series, which tells the story of twentysomething writers, actresses, and dancers trying to break into show business, is being trumpeted as the first "network quality" show to be produced specifically for the Web. By that, the producers mean it won't be cheap to make—far more than the estimated $5,000 a pop it cost to produce Michael Eisner's Prom Queen, itself considered higher in quality than much online fare (BusinessWeek, 4/9/07).
High Production Values
How much more? The production tab will probably run higher than $80,000 an installment, based on Herskovitz' estimate that each 48-minute episode will cost somewhere north of $500,000. Each episode will then be divided into six installments to be distributed online.
The quarterlife deal comes two days after MySpace's agreement to team up with newly launched independent Web producer My Damn Channel, which has signed on well-known talent like sitcom writer and comedian Harry Shearer and Rolling Stones music producer Don Was to create their own videos.
MySpace has also inked other high-end content deals lately, including getting short "minisode" versions of classic TV shows such as The Jeffersons from Sony (SNE) and programming from sports leagues like the National Basketball Association. In July, the social network also signed Dark Horse Comics to create its own channel of online comic books.
MySpace's Big Ad Strategy
"At the outset, MySpace was a blank canvas for our users," says MySpaceTV.com General Manager Jeff Berman. "What we're doing now is giving some of the best creative folks we can find a blank canvas to create the kinds of content that a MySpace user wants." Herskovitz and Zwick, Berman points out, "have Emmys on their desk."
Getting some of those people on board has forced MySpace to make concessions. Herskovitz says the News Corp. unit was initially uneasy about his company's plan to have its own social networking site, quarterlife.com. The potential competitor could lure folks from MySpace to a separate site where Herskovitz and Zwick will have links to classes and other tools to help young artists break into show business. "I'm sure they didn't want folks to leave, but we eventually found a compromise where they'd have their own quarterlife site and we'd have ours," Herskovitz says. "And the viewers will go where the viewers want to go." In addition, MySpace won't own the content, and it will be exclusive for only a day before it can be shown on quarterlife.com, says Herskovitz.
What Myspace folks are counting on, however, is keeping folks on their site long enough to sell plenty of ads. Those folks currently stick around an average of more than three hours a month, about 20 minutes more than Facebook. Moreover, News Corp. Chairman Rupert Murdoch has big plans for MySpace as an advertising vehicle, and has said that the unit that owns MySpace will be profitable this year and generate more than $1 billion in revenue next year with "margins well above 20%."
Countering Facebook's Growth Spurt
That's one reason the site will soon begin offering truly professional content: prime-time TV programs from a new service called Hulu, backed by NBC and News Corp.'s Fox network (BusinessWeek, 8/30/07). MySpace expects to get other content from traditional outlets like networks, but Berman refused to name them. MySpace is also keen to further distinguish itself from rival Facebook, a social networking site that's undergoing a growth surge after making it easier for software developers to build all manner of games, tools, and information that users can attach to their pages (BusinessWeek, 8/06/07).
These may just be the opening scenes of Hollywood's romance with MySpace. There's a huge amount of freedom in programming for the Web, says My Damn Channel President and founder Rob Barnett, formerly CBS Radio's (CBS) president of programming. "No one sent me any notes on what they'd like me to change," he says.
And MySpace will almost certainly get calls from agents for other high-powered creative types, figures Herskovitz, who says consolidation in the old media world means that traditional TV networks today produce their own shows and rarely turn to outsiders. "A few years ago there were 40 independent TV companies in Hollywood; now there are zero," says Herskovitz. "MySpace is a distribution platform with no controls. We just produce, and it gets a huge audience."