Keep An Eye On Jobless Claims
As investors struggle to divine the path of the economy in the wake of the August financial meltdown, economists believe one indicator deserves keen attention: initial claims for unemployment insurance.
The claims data are important because they are weekly, and they show trends important to both business activity and consumer spending. Healthy gains in jobs and incomes have been crucial to consumer resilience, and the claims numbers would be the first place any retrenchment in hiring would show up.
So far, through Aug. 18, there is little to suggest any significant change in this year's pattern of layoffs. The four-week average of new claims, at 318,000, is close to the average so far this year, a period of moderate job growth. Economists generally believe that claims would have to rise above 350,000 per week—and stay there—before signaling any new tendency by businesses to slash payrolls.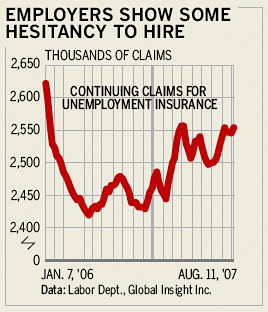 The volume of continuing claims also will be important to watch. This is the total number of people receiving benefits, not just first-time claimants, and it tends to track the pace of hiring. The four-week average of total filings, reported with a one-week lag, stood at 2.55 million through Aug. 11. That level has risen in recent weeks and is appreciably higher than at the end of last year. This rise suggests that, while businesses are not stepping up their layoffs, they are somewhat more reluctant to bring on new hires.
In coming weeks layoffs in the mortgage industry and some financial institutions are sure to push the claims stats up a bit. Even if the numbers remain below critical levels, any hesitancy to expand payrolls would slow job growth in the coming months, perhaps below the point needed to keep the unemployment rate, 4.6% in July, from rising. Before August, the Federal Reserve had been watching the labor markets closely for hints of inflation pressures. Now they are the most important place to look for signs that the Fed may have to start cutting interest rates.
By James C. Cooper, with James Mehring in New York
Before it's here, it's on the Bloomberg Terminal.
LEARN MORE