It's hard to know which way you're heading when the ground is shifting under your feet. That's how economic forecasters feel right now. The outlook has changed for the worse, but it's impossible to know how much worse until the tremors from the financial markets stop rocking the landscape. Actions by the Federal Reserve have restored some calm. Still, investors remain gripped by uncertainty, especially over the value of any asset tied to mortgages.
To assess how the storm in the financial markets will affect the outlook for the economy, it's important to understand that there are actually two dimensions to that turmoil: A short-term liquidity squeeze and a longer-term repricing of risk in the credit markets that is concentrated in, but not confined to, the mortgage market. The liquidity crisis has occurred because risk repricing began so rapidly and with such fear that some markets had all but frozen up by mid-August.
Relieving the short-term crisis is the Federal Reserve's first order of business. If the markets don't thaw out, a recession is a real possibility. So far signs are encouraging. Still, investors remain jumpy, as the plunge in stock prices on Aug. 28 illustrated, and the market is chilly for asset-backed commercial paper, a key source of funds for the day-to-day operations of many businesses. In the two weeks through Aug. 24, the volume of this $1.1 trillion market shrank by $125 billion.
Banks, however, appear to be filling some of that gap with commercial and industrial loans, which have accelerated in recent weeks. The Fed is trying to ease the squeeze by accepting as collateral asset-backed commercial paper and some subprime loans, assets that investors have rejected, from banks that wish to borrow directly from the Fed to secure loanable funds. Elsewhere, yields on short-term Treasury issues are still volatile but off their lows. They had plunged with investors' panicky flight to quality, spurred by the problems in commercial paper. And until Aug. 28, measures of stock-market volatility had receded.
IF THE FED SUCCEEDS on the liquidity front, and that's no sure bet, then the economic view depends on the longer-lasting effects of tighter credit conditions. That tightening will not be spread evenly over the whole economy. Housing and homebuilding will feel the biggest chill from investors' new attitudes toward risk, as the subprime mortgage market shrinks and lenders begin to take a closer look at even prime borrowers' loan applications.
Sales of new and existing homes in July showed some stability, but another round of weakness is sure to develop in coming months. Inventories of new homes in July required 7.5 months to sell, and stocks of existing homes for sale rocketed up, reaching a 9.6-month supply, more than double the amount of two years ago.
Now, this new slackening in home demand and construction will create a heavier drag on economic growth in the coming year than appeared likely prior to August. Over the past year, the contraction in homebuilding subtracted about 0.9 percentage point per quarter, on average, from the economy's annual rate of growth, and the drag had been diminishing. Now, a return to that degree of subtraction well into 2008 seems a good bet. Keep in mind that even under that burden, the economy still managed to grow at a moderate 2% pace over the past year.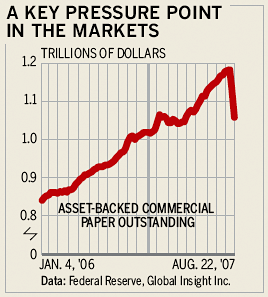 The still-growing stock of existing homes for sale will add downward pressure on prices. Based on the Standard & Poor's/Case-Shiller Home Price index, price declines through the second quarter were already accelerating from previous-year levels. They were down 3.2%, after falling 1.6% in the first quarter, and holding about steady at the end of 2006. Many economists now think a price drop of 10% to 15% from the peak in the second quarter of 2006 is possible. A 15% decline would put the average about where it was at the end of 2004.
TO A MUCH LESSER EXTENT, credit will also be costlier and less free-flowing for businesses and consumers, a factor that's sure to slow the growth of spending in both sectors, but not dramatically. It's important to remember that the economy entered the August turmoil from a platform of strength, not weakness. Economic growth through July was accelerating. After slipping to 1.6% annually in the second half of last year, the pace picked up to more than 2% in the first half of 2007, and prior to the events of August, the economy was on track to gain more speed in the second half of the year.
Several July economic reports show just that momentum, especially the big 5.9% increase in new factory orders, the largest rise since last September. That jump is consistent with the solid 0.6% advances in factory output in both June and July. Those production gains were concentrated in business equipment, with particular strength in high-tech gear. That pattern shows businesses' renewed efforts to increase capital spending after a slowdown late last year and early this year.
Business confidence will be shaken by the market mess, and that new caution will most likely slow hiring and delay some expansion plans. But businesses headed into the second half with surprisingly strong earnings growth last quarter, still-high profit margins, and historically strong balance sheets.
CLEARLY, THE BIGGEST WORRY in the outlook is how the shift to tighter credit will affect consumer spending. As expected, households registered their pessimism over the August crisis, as consumer confidence plunged. Still, it remained in the range of the ups and downs posted since Hurricane Katrina.
So far, neither a sagging housing market nor soaring gasoline prices have dealt households a knockout blow, mainly because job markets have been strong enough to generate healthy gains in income. Less and costlier credit will be consumers' next test in the coming year—especially if more slowly rising stock prices, in combination with falling home prices, cut into household net worth. The most vulnerable type of spending will be on big-ticket goods such as autos and appliances that are usually bought on credit.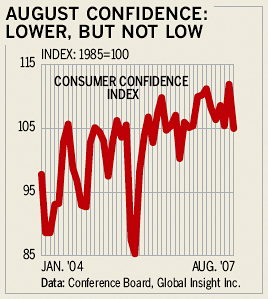 Much depends on continued job growth, and that seems likely given that payroll gains have been driven mainly by service-sector industries, which account for 84% of jobs and are less sensitive to credit tightening. Also, gasoline prices through Aug. 27 have dropped 47 cents per gallon since mid-May, a decline big enough to add significantly to the buying power of incomes in the second half. Moreover, changes in net worth affect spending with a long lag. Economists at JPMorgan (JPM ) estimate that even if wealth stalls at current levels, past gains would still add to consumer spending in the coming quarters.
Gauging the impact of recent events on the outlook is complicated by the tighter linkages between the financial markets, housing activity, and the overall economy. But that means once Wall Street finds its footing, it's a good bet the economy will, too.
By James C. Cooper
Before it's here, it's on the Bloomberg Terminal.
LEARN MORE