Inflation Takes A Backseat—For Now
The Federal Reserve has put its inflation concerns on the back burner as it focuses on the financial markets and the potential risks they pose to economic growth. But price pressures are still running a little hotter than the Fed would like and may continue to do so if the economy doesn't get burned by the financial tumult.
On Aug. 17 the Federal Reserve adjusted its views on the economy by stating that worsening financial conditions raised the risk of weaker growth "appreciably." By also making no mention of inflation in its statement, the Fed pushed what had been its top concern into the background—at least for now.
Nevertheless, July inflation data showed little evidence of further cooling. Minus food and energy, prices grew at an annualized pace of 2.5% in the latest three months through July. That's up from just 1.6% in May.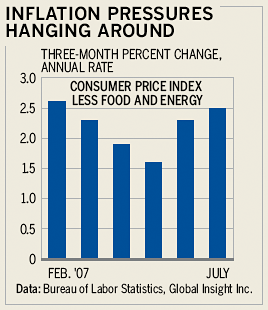 As long as financial problems plaguing Wall Street don't cause consumers and businesses to panic, inflation may remain higher than Fed Chairman Ben Bernanke would like. "It's more likely than not that we'll see core inflation continue to run above 2%" says JPMorgan (JPM ) Chase economist Bruce Kasman.
There are a few reasons why price pressures may not abate. The cost of goods outside of food and energy may be starting to climb now that companies are no longer clearing their warehouses of excess inventories, and a weaker dollar makes imported items more expensive. Behind the scenes, a tight labor market, higher labor costs, and a slower trend in productivity growth could limit how much inflation eases, says Kasman.
What's more, any lowering of the Fed's target interest rate in the coming months in an effort to offset potential damage to the economy from the financial markets could "put more inflation pressures into the system," says economist Julia Coronado at Barclays Capital (BCS ). If the Fed can swiftly guide the financial markets out of rough waters, inflation could soon be the Fed's top concern once again.
By James Mehring
Before it's here, it's on the Bloomberg Terminal.
LEARN MORE