Don't Be Afraid Of The Dark—Well, Not Too Afraid
Risks are rising with market turmoil, but growth prospects still look solid
Former Federal Reserve Chairman Alan Greenspan once noted that people react to the uncertainty generated by a financial market shock the way they do when they walk into a dark room. Their first reaction? They freeze. The recent turmoil in the stock and bond markets has left many investors stymied and groping for the light switch. Probably the main thing they would like to see is just how the market quake will reverberate through the economy.
Clearly, the risks to economic growth in the second half have increased, especially as new blowups at hedge funds and mortgage companies continue to rattle investors. The most obvious danger is that credit conditions could tighten even more sharply and more broadly—not just for the riskiest borrowers. In that case, a full-blown credit crunch could greatly curtail overall spending, maybe even sending the economy spiraling into a recession.
After taking a few days to contemplate Wall Street's worst week in five years during July 23-27, most economists say the odds of the disaster scenario have risen but remain low. The chief reason: The fundamental supports under the economy—outside of housing—are solid. In particular, both the household and corporate sectors are financially strong heading into the second half, suggesting lenders will most likely continue to welcome their business.
Caught in the darkness, investors overlooked some of the best evidence of all this on the morning of July 27. That's when the government's report on second-quarter gross domestic product showed the economy grew at a healthy 3.4% annual rate last quarter, a big rebound from the puny 0.6% pace posted in the first quarter and the strongest showing in more than a year. By the end of the day, though, the Dow Jones (DJ ) industrial average had fallen 208 points, after losing 311 points the day before.
MANY INVESTORS viewed the report as old news, since it portrays the economy before the recent turmoil. However, the details contain several positive implications for the second half: Company outlays for equipment are accelerating, and business construction is booming. Weak growth in inventories last quarter means the boost from stock rebuilding has yet to be felt. Plus, the numbers show that impressive global growth remains an important prop under demand and profits.
At home, despite weak performance by consumers burdened with high gas prices, household incomes are growing strongly, and revised data show savings are much higher than previously thought. Of course, housing weakness will continue to weigh heavily on overall growth, but the drag last quarter was the smallest in more than a year, and its subtraction from growth in the second half will be less than it was in the first half.
START WITH THE CORPORATE SECTOR, since that is where investors are most keenly focused right now. The GDP report showed that companies are putting more of their money into capital projects. Outlays for equipment and software grew at a modest 2.3% annual rate, but that gain represents steady improvement from almost no growth in the first quarter and a drop in last year's fourth quarter. Business construction surged 22.2%, the largest quarterly advance in 13 years. The jump shows businesses are expanding their U.S. operations, and that suggests a continued bright outlook for hiring.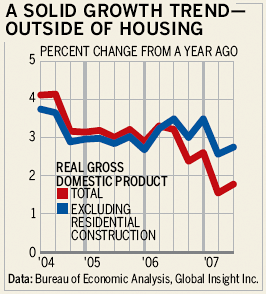 Keep in mind that, while tighter credit conditions for risky loans are cutting into corporate dealmaking, those deals have little impact on business investment in productive assets and, thus, on economic growth—outside of the fees they generate on Wall Street.
Moreover, any questions about credit quality across the great majority of American businesses would be sharply at odds with the financial condition of U.S. corporations, which on the whole is the strongest in many years. For example, in the first quarter, cash on the balance sheets of nonfinancial corporations was running at a record $1.2 trillion, a figure that has almost doubled since 2001. Internally generated funds were nearly equal to all outlays for new plants and equipment, a rarity this far into a business cycle.
Plus, credit market debt as a percentage of net worth is at a level not seen since the mid-1980s. The ability of profits to cover interest is at record levels, reflecting a high percentage of low-cost, long-term debt. And corporate earnings continue to surprise on the upside.
With 304 of the companies in the Standard & Poor's 500-stock index having reported through July 27, second-quarter earnings are on track to grow 5.8% from a year ago, based on Thomson Financial's (TOC ) blended growth rate, which aggregates company reports with the current expectations of businesses that have yet to report. On July 1, before earnings season began, analysts had expected growth of only 4.1%. The overall number could go higher. So far, 64% of companies have posted earnings greater than expected, higher than the 60% figure in a typical quarter.
LOOKING AHEAD, business sector demand is well supported both at home and abroad. In fact, after efforts to reduce inventories to levels more in line with demand, companies may have gone too far. The gross domestic product numbers show that for the past three quarters, overall demand has grown much faster than inventories. Stockpiles, which posted almost no growth in the first and second quarters, will have to be built up to meet sales. That means faster growth in overall production.
Consumer spending took a hit last quarter, growing only 1.3%, the smallest advance in a year and a half, as record gas prices cut into the buying power of income. However, by the end of July, the average pump price had fallen more than 10% from its May high of $3.22 per gallon, to $2.88. At the same time, tight labor markets continue to generate healthy income growth. In June, income from wages and salaries was up 6.7% from a year earlier, more than double the rate of inflation.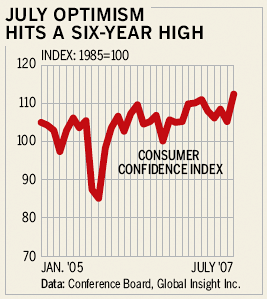 Consumer confidence readings for August are likely to register some uncertainty after the market turmoil, but the July measures clearly show that, despite the gas price squeeze on incomes, consumers were upbeat. The Conference Board's confidence gauge rose to the highest level in six years last month, as households gave an especially upbeat assessment of job market conditions.
Businesses are also benefiting from strong demand overseas. The GDP data show that exports rose 6.4% last quarter, and that pace is unlikely to slack off. The International Monetary Fund recently upped its forecast for world economic growth to more than 5% for both this year and next.
Nervous investors can be excused for not appreciating the economy's sound fundamentals right now. Once they see the light, though, they are likely to conclude that, as long as the financial markets continue to function normally and offer the great majority of businesses and consumers access to credit, the economy is on track for at least moderate growth in the second half.
By James C. Cooper
Before it's here, it's on the Bloomberg Terminal.
LEARN MORE