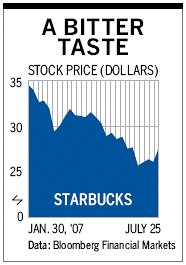 Has Starbucks (SBUX ) bottomed? Some pros think so, including Georges Yared of Yared Investment Research, who started buying when shares hit 25 in June. Starbucks, the world's largest coffee chain, has been the butt of scorn because of disappointing sales and earnings. Even so, Yared sees the stock snapping back as management takes steps to regain lost ground. One catalyst is Starbucks' breakfast sandwiches, now served in 700 of 13,700 locations worldwide. Starbucks will roll out sandwiches in 4,000 stores within 12 months. Yared figures the breakfast fare will add $70,000 to each store's annual sales. That's about $200 million total a year, he says, and it's not yet reflected in estimates. In fiscal 2009, Yared expects 7,000 stores will serve breakfast, generating extra sales of $420 million to $450 million. He sees earnings of 88 cents a share on sales of $9.5 billion in the year ending Sept. 30, 2007, and $1.10 on $11.5 billion in 2008. Starbucks plans to add 2,000 stores each year with a global long-term goal of 40,000 locations. Joseph Buckley of Bear Stearns (BSC ) says the market is focused on near-term negatives and ignores Starbucks' strengths and prospects. "This is a more appropriate time to buy than sell, and we reiterate our outperform' rating," he says. Dan Gelman of investment firm McAdams Wright Ragen rates the stock, now at 27.96, a buy, with a 12-month target of 44.
Note: Unless otherwise noted, neither the sources cited in Inside Wall Street nor their firms hold positions in the stocks under discussion. Similarly, they have no investment banking or other financial relationships with them.
By Gene G. Marcial
Before it's here, it's on the Bloomberg Terminal.
LEARN MORE