Credit Is Tightening—And That's Fine
It's curbing some of the frenzy, and a severe financial crunch is unlikely
Sometimes investors need a little jolt to bring them back to reality. Suddenly, the blowup in subprime loans and the shaky financial assets associated with them have convinced people there's a lot more risk out there than they previously thought, and investors want to be compensated for it. This repricing of risk is making credit more costly for a wide variety of borrowers and raising questions about how that will constrain the rest of the economy.
In the end, however, this revaluation of risk may well prove to be a salutary event that helps to extend the life of this business cycle by reining in some of the excesses that could come back to haunt investors and the economy later on. By any market measure, from bonds and stocks to currencies, U.S. financial conditions in recent years have been exceptionally loose and accommodative to corporate and consumer finance and to economic growth.
That's especially remarkable given the Federal Reserve's efforts to tighten those conditions by hiking its target interest rate from 1% in June, 2003, to 5.25% in June, 2006. Even so, since 2003 bond yields have remained historically low, and stock prices have soared. Also, the dollar has slid lower, making U.S. assets cheaper for foreigners.
One key reason for this disconnect: the unusually low level of risk, evident in many market-based measures, that investors have implicitly priced into various assets.That has helped fuel the frenzied pace of mergers and acquisitions, stock buybacks, and leveraged buyouts, especially by many private equity firms.
NOW, TIMES ARE CHANGING. The revaluation of risk is showing up mainly in the widening difference between the yields on corporate bonds and a riskless Treasury security of the same maturity. The wider the yield spread, the greater the perceived risk. Risk spreads for various collateralized debt obligations containing subprime mortgages have blown open in recent weeks, but so have those for high-yield, low-rated corporate issues. Even spreads for moderately risky BBB corporate debt, as rated by Standard & Poor' (MHP )s, have widened, and those for high-grade AAA-rated corporates have increased, although not by as much.
The good news is that the adjustment so far has been orderly and without the sharp tightening in overall credit conditions often associated with an outright credit crunch. Spreads remain relatively narrow compared with historical experience. Fed Chairman Ben S. Bernanke noted during his testimony before Congress on July 18-19 that conditions in the subprime market had deteriorated significantly, but "for the most part, financial markets have remained supportive of economic growth."
Businesses and consumers will remain vulnerable to further credit tightening as long as there is the possibility another shoe could drop, similar to the collapse of the two subprime-related hedge funds at Bear Stearns (BSC ). Officials at Countrywide Financial have already warned about broader credit problems. The credit squeeze will likely increase in the months ahead, if only because the news from the housing sector is bound to get worse. Resets on adjustable-rate mortgages will push up delinquencies and foreclosures, a pattern sure to make investors even more risk-averse.
To date, though, the ripple effects have been small and manageable. The markets and the economy seem capable of absorbing the emerging downshift in investors' appetite for risk without great pain. The extent of the subprime problem remains small. In his testimony, Bernanke estimated the losses to holders of subprime loans so far at $50 billion to $100 billion, similar to Wall Street estimates. In a nearly $14 trillion economy, even losses twice that size are hardly a major burden.
THE SQUEEZE in the credit markets as a result of the subprime mess is far from a severe one in which even qualified borrowers have difficulty securing a loan. The Fed's April survey of lending standards at banks showed little in the way of tighter terms and conditions on consumer loans outside the subprime area or on commercial and industrial loans to businesses. The July survey, due in August, will offer an update, and it will most likely show a broader, but not harsh, tightening.
In the credit markets, the widening of risk spreads has not been great. As of July 18, the yield spread on corporate bonds rated BBB, representing moderate risk with no speculative characteristics, had increased to 1.5% from 1.25% at the end of June. That's little different from the 1.47% average for all of 2006, and far below the 2.56% averaged during the tech bust, recession, terrorist attacks, and corporate scandals from 2000 to 2003.
INVESTORS' NEW ATTITUDES toward risk are sure to dampen the rise in stock prices, as seen in the big sell-off on July 24, but note that stocks have not suffered greatly in the months since the revelations at Bear Stearns. The broad Dow Jones Wilshire 5000 stock index was still up 0.9% from three months ago and 6.9% for the year. Higher equity values are offsetting the tighter conditions in the credit markets: They continue to support business expansion, and they add to household net worth, a key underpinning for consumer spending.
The dollar, often overlooked as an indicator of financial conditions, should also remain supportive of U.S. asset prices as well as corporate profits from overseas operations and U.S. exports. Since its peak in February, 2002, the trade-weighted greenback has declined 21% against a basket of all currencies the U.S. does business with and 32% vs. a group of major currencies.
Foreigners are jumping at the chance to buy U.S. securities. They ponied up a record $126 billion in May alone, according to the latest Treasury report, boosted by robust demand for both equities and corporate bonds. In the year through May, the total comes to $938 billion, more than enough to cover the U.S. current account deficit. Over the year, foreigners also have bought $240 billion in Treasury bonds and notes, sufficient to finance the Treasury's entire budget deficit.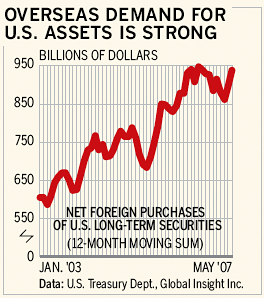 Corporate credit quality, the ability of companies to secure debt financing, is sure to wane in the coming quarters, as it always does when a business cycle gets older. Profit growth is already slowing, with second-quarter earnings likely to slip into the mid-single digits, according to Thomson Financial (TOC ).
Still, corporate balance sheets began the year in spotless condition, with credit-market debt in relation to net worth near levels not seen in two decades. At the same time, businesses are set to benefit from an economy showing every sign of rebounding from its slowdown of the past year, despite the housing drag.
The bottom-line message from the subprime debacle is that investing is always riskier business than you think. People often forget that, especially in an extended business cycle like this one, in which the party lasts a long time. The credit markets are now telling us that investors are becoming more cautious, and that may well turn out to be a good thing.
By James C. Cooper
Before it's here, it's on the Bloomberg Terminal.
LEARN MORE