Come Fall, Relief At The Pump
Feeling the heat of higher gasoline prices, consumers reined in their spending during the second quarter. But shoppers could be back at the malls in full force quite soon as gas prices decline in response to a downshift in demand and a gradually improving supply picture.
In the second quarter, the national price of gasoline climbed to a record high, topping $3.20 per gallon in May. Not surprisingly, initial economic growth figures for the same period showed personal consumption expenditures slowed sharply.
Since May gasoline has fallen, hitting $2.96 per gallon in the week ended July 23, and it could continue to decline. One reason is that consumers are buying less gas. Consumption over the past four weeks is up just 0.6% from a year ago, close to the prior week's eight-month low.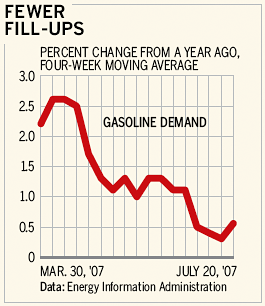 On the supply side, unexpected weather-related shutdowns and scheduled maintenance at refineries reduced output and led to low inventory levels earlier this year, pushing up the price difference between a barrel of gasoline and a barrel of oil, called the crack spread.
Now, the gasoline and crude spread is narrowing as more refineries come back online, as the capacity utilization rate rises, and as the inventory level gets closer to the average for this time of year. The futures market is indicating further easing in the crack spread and gas prices.
The upshot could be a swift rebound in consumer spending. "It looks like we are going to get a 50 cents-to-45 cents move in gasoline prices in the third quarter, which should boost purchasing power by about $75 billion," says JPMorgan Chase (JPM ) economist Michael Feroli. Such an increase in discretionary income could translate into more than a percentage point improvement in third-quarter consumer spending, he says.
This upbeat outlook comes with a big caveat: The expectation of lower gas prices and stronger consumer spending assumes no more major refinery problems and a repeat of last year's mild hurricane season.
By James Mehring
Before it's here, it's on the Bloomberg Terminal.
LEARN MORE