Less Red Ink Now. Lower Rates Later?
The odds look good for the federal budget deficit to post the smallest shortfall in five years, while conditions look promising for even less red ink next fiscal year. What's more, the unexpectedly rapid shrinkage in the deficit could begin to affect interest rates--favorably.
With three months left in fiscal year 2007, the budget deficit is $121 billion, compared with $206 billion over the same period for FY 2006. After the June data showed a monthly surplus of $27.5 billion, it's likely that the deficit will be much smaller than the revised forecast of $205 billion that the White House issued on July 11.
Revenue gains are outpacing increases in spending. Through the first nine months, receipts are up 7.5% over a year ago. At the same time outlays have risen just 2.5%. A healthy labor market, hefty corporate profits, and a surging stock market are fueling the strong rise in tax receipts.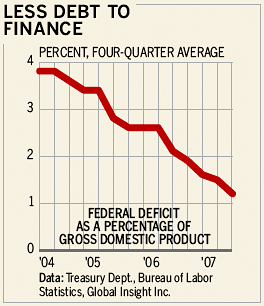 Economists expect revenues will slow but continue to outpace spending gains next fiscal year, pushing the deficit even lower. Even if the housing contraction persists, the jobless rate ticks up a little, and the economy grows modestly, Christopher Low, an economist at FTN Financial, expects the gap would still be just about $120 billion. If the U.S. military starts pulling out of Iraq or Congress makes no progress on reforming the alternative minimum tax, "a surplus cannot be ruled out," says Low.
A smaller-than-expected deficit has the U.S. Treasury Dept. trimming the number of securities it is issuing. In May it stopped selling new three-year notes, and some economists believe Treasury may even begin buying back some debt.
A reduction in Treasury's financing needs is coinciding with fewer debt issues from mortgage lenders and agencies such as Fannie Mae (FNM ). The combination means a smaller supply of new debt is hitting the bond market. As long as inflation behaves, Low believes reduced demand to borrow funds could "be one of the big positives for lower interest rates over the next year."
By James Mehring
Before it's here, it's on the Bloomberg Terminal.
LEARN MORE