Labor Is Keeping The Economy In Fighting Trim
The job market looks healthy enough to power a strong second half
Over the past year the economy has taken several body blows that would have laid it out cold in past decades. This resilience mainly reflects the transformation of the Old Economy, narrowly focused on several domestic industries, to a more diverse New Economy shaped by technology and globalization. Through it all, the labor market has faithfully captured not only the economy's changing structure but also its resistance to adversity. That's why the steady strength evident in the Labor Dept.'s June job report is an important guide to the economy's upbeat prospects for the second half.
Despite heavy hits from the housing recession, three-buck gasoline, and the subprime meltdown, the economy continues to generate jobs at a pace sufficient to keep unemployment within a whisker of its six-year low of 4.4%. June joblessness held at 4.5% for the third month in a row, and businesses added 132,000 workers to their payrolls, with sizable upward revisions to job growth in both April and May. Job gains this year have been slower than they were a year ago, but the June pace was around the growth rate economists say is sufficient to keep the unemployment rate from rising.
Clearly, job growth may be slower, but it's hardly weak. Payroll gains, which averaged 190,000 per month in the second half of 2006, have averaged 145,000 a month in the first half of 2007, with sturdy increases in services. In fact, that first-half buoyancy was a key signal that the first-quarter slump in the economy's annualized growth rate, to a puny 0.7%, was not the beginning of a new round of protracted weakness. Indeed, most economists expect growth to rebound to a pace of least 3% when the government issues its initial estimate of real gross domestic product on July 27.
Looking to the second half, the trends in the labor markets through June show that consumers continue to receive plenty of support from income growth, businesses remain keen on expanding their operations and increasing their capital spending, and the manufacturing sector, a crucial source of the economy's recent slowdown, is springing back to life. The labor markets also indicate they are tight enough to keep the Federal Reserve on edge over the future path of inflation.
FIRST, CONSIDER CONSUMERS. Household spending took a breather in the second quarter. Outlays, adjusted for inflation, appear to have grown only about 1.5% to 2% at an annual rate, after gains averaging 4.2% in the two previous quarters. Retailers reported soft sales in June, and car sales in the month fell sharply, to an annual rate of 15.5 million, after averaging 16.3 million in the first five months of the year.
However, the healthy job markets are saying the consumer slowdown has more to do with last quarter's gas prices than with this quarter's ability to spend, especially since pump prices are now edging lower. For a record two months in a row, gas prices averaged more than $3 a gallon in May and June, causing overall consumer inflation in the second quarter to accelerate to near 6% at an annual rate. That was up from 3.8% in the first quarter, following a 2.1% drop in the fourth quarter, as gas fell after its 2006 bout with the $3 level. That speedup cut deeply into the buying power of incomes.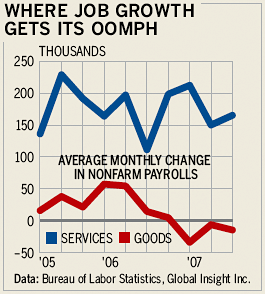 What gets lost here is that basic wage-and-salary income—before inflation—continues to grow strongly. Through May, it was up 6.1% from a year ago, and the trend heading toward the second half still looks solid. A good proxy for take-home pay is the combination of average hourly pay and overall hours worked taken from the monthly employment report. This gauge in May and June posted the largest back-to-back gains in more than a year. Continued increases in household wealth, especially from rising stock prices through the second quarter, will add some spending support (see BusinessWeek.com, 6/26/07, "The U.S. Market Is Overheated").
THE LABOR MARKETS ALSO OFFER some guidance on prospects for the business sector. The interesting feature of the second quarter is that overall economic growth accelerated despite the sharp slowdown in consumer spending. That's because other areas, such as capital spending and manufacturing output, strengthened.
Solid increases in jobs and hours worked show that businesses are bullish on expansion again, after cutbacks in both equipment outlays and inventories late last year and early this year. Although businesses added about the same number of workers to their payrolls in the second quarter as they did in the first, overall hours worked grew more than twice as fast—2.3% at an annual rate vs. 1.1%, a sign businesses were stepping up production. The turnaround in hours worked in the manufacturing sector has been especially sharp: Factory worktime, which fell 1.4% in the first quarter, rose 1% in the second.
MIRRORING THAT TREND, June activity indexes for both the manufacturing and the broader services sector rose to their highest levels in more than a year, according to surveys by the Institute for Supply Management. In both sectors, businesses reported a high level of new orders and low inventories.
Stockpiles of goods had become top-heavy last year, and companies began to cut ordering and output in an effort to pare them down. That process now has clearly run its course. In May and June, a historically high percentage of manufacturers said their customers' inventories were "too low," a major reason why ordering and output are picking up and giving the economy some momentum heading into the second half.
Businesses also are reviving their capital spending. In the first quarter, orders for capital goods, outside the big gyrations caused by commercial aircraft, had dropped 16.2% at an annual rate from the previous quarter, but the average of orders in April and May already has rebounded 13% from the first quarter. Capital-goods shipments have reversed course as well. The job markets suggest this trend is continuing, given that hours worked in several equipment industries, from high-tech gear to basic machinery, grew strongly in June.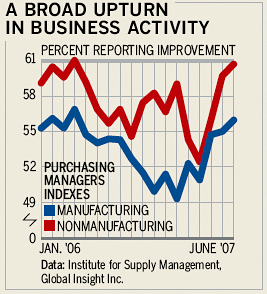 The steady strength in the job markets, while generally positive for the economy's second-half prospects, does have one downside, though: It puts Federal Reserve policymakers in a straitjacket. The Fed cannot lower interest rates for fear tight labor markets will generate inflation, but it cannot hike rates to ease those wage and price pressures for fear of making the housing slump and the subprime problem worse.
At its June 28 policy meeting, the Fed noted inflation had eased but said "a sustained moderation in inflation pressures has yet to be convincingly demonstrated." The sticking point here is tight labor markets, which policymakers say have the potential to intensify those pressures.
The rebound in second-quarter economic growth means the economy may well be picking up in the second half to a pace where job growth will be fast enough to push the unemployment rate down even further. That would signal good times for consumers and businesses, but it would put the Fed in a tricky situation.
By James C. Cooper
Before it's here, it's on the Bloomberg Terminal.
LEARN MORE