Outside of housing, there's a construction boom. The protracted recession in residential building is getting all the attention, but nonresidential building shows scant signs of letting up. That's softening the blow from housing for both the industry and the overall economy.
In the second quarter, U.S. office-vacancy rates fell to 12.6%, down from 13.7% a year ago, according to commercial real estate services company CB Richard Ellis Group (CBG ). The decline came despite a 21.5% yearly increase in the amount of office space constructed during the second quarter.
A falling vacancy rate is one reason construction activity remains brisk. In May, nonresidential outlays jumped 2.5%, with office space spending up 1.6%. The building expansion, however, is pretty broad-based, with lodging, commercial, and manufacturing categories doing well, too. Construction of new plants and manufacturing facilities surged 6.1% in May and is up 15.5% from a year ago. Yet the vacancy rate for industrial buildings has remained fairly steady over that time.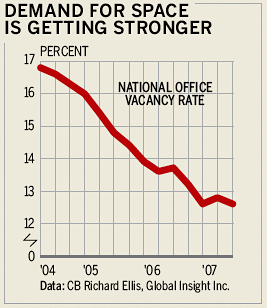 The outlook remains upbeat. "There is still a large pool of buyers" for office space, says Ward Caswell, U.S. director of research at CB Richard Ellis. In May, new nonresidential construction starts increased at an annualized rate of 4.4% from April, while nonbuilding starts, such as constructing new highways and bridges, spiked by 43%, according to McGraw-Hill Construction (a division of The McGraw-Hill Companies (MHP ), which also owns BusinessWeek).
The continuing strength of nonresidential construction appears to be absorbing some of the fallout from weak homebuilding. The number of housing-related construction and contractor jobs has declined by 118,400 over the past year through June. Meanwhile, the nonresidential sector has hired 108,200 workers. What's more, as the contraction in housing wanes, the strong performance in the nonresidential area should offset more of the drag and help to keep the economy growing.
By James MehringBy James Mehring
Before it's here, it's on the Bloomberg Terminal.
LEARN MORE