At Ziopharm, Arsenic Is Not So Toxic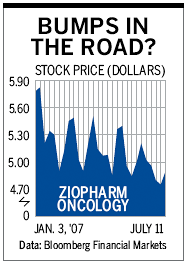 Arsenic to treat cancer? So advocates Dr. Jonathan Lewis, professor of surgery and medicine at Memorial Sloan-Kettering Cancer Center from 1994 to 2001 and now CEO of Ziopharm Oncology (ZIOP ). Arsenic has long been in medical use, he says, and there's renewed interest since the approval of Cephalon's inorganic-arsenic drug Trisenox in 2000. Extremely effective against rare hematological cancers, Trisenox' wider use is hampered by its toxicity, says Lewis. (It carries a Food & Drug Administration warning as potentially lethal.) But the arsenic that Ziopharm uses in its Darinaparsin (ZIO-101) is organic, which reduces most toxic side effects, Lewis says. "We are testing its use in treating myeloma and other blood cancers." ZIO-101 and another drug aimed at sarcoma, ZIO-201, are both in Phase 2 clinical trials. "ZIO-101 is the first of a new class of arsenicals that are potentially safer and more effective for cancer treatment," says Chrystyna Bedrij of Griffin Securities, who rates the stock, now at 4.90, a buy, with a year's target of 20. On July 9, Ziopharm announced "positive interim data" from the ZIO-201 trials. Vinny Jindal of ThinkEquity Partners, also with a buy, notes that an oral form of ZIO-101 got FDA approval for human clinical testing.
Note: Unless otherwise noted, neither the sources cited in Inside Wall Street nor their firms hold positions in the stocks under discussion. Similarly, they have no investment banking or other financial relationships with them.
By Gene G. Marcial
Before it's here, it's on the Bloomberg Terminal.
LEARN MORE