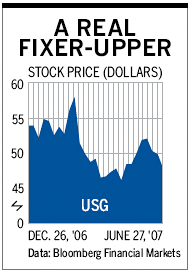 Buzz that Warren Buffett may hike Berkshire Hathaway's (BRK ) 17% stake in USG (USG ), the world's No.1 maker of gypsum wallboard, is heating up. "We think Buffett will act soon, before the housing cycle turns," says Michael Metz, chief investment strategist at Oppenheimer (OPY ). The housing slump has pounded USG, whose stock has sagged from 58 in February to 48 on June 27. Sales slowed, and analysts scaled back their earnings estimates. But Metz sees the stock at 70 in 12 months, when he expects a housing upturn to begin. Most analysts are down on USG, but Daniel Scalzi of Matrix USA tags it a buy, based on its solid balance sheet and 7.5% return on capital. Despite the housing mess, sales continue to rise, but more slowly, says Scalzi. He also expects Buffett to raise Berkshire's stake. "That's what he does when he favors a company," says Scalzi. "Buffett trusts USG's management." Jim Barrett, research director at CL King & Associates, predicts a 12% drop in USG's 2007 sales. Even so, he rates it a "strong buy," with a 12-month target of 67. "The time to buy high-quality cyclicals is when uncertainty is greatest," says Barrett. USG is for investors with "the patience to buy prior to what we think will be an inevitable improvement in investor sentiment." A Buffett spokeswoman said Berkshire doesn't discuss portfolio activities.
Note: Unless otherwise noted, neither the sources cited in Inside Wall Street nor their firms hold positions in the stocks under discussion. Similarly, they have no investment banking or other financial relationships with them.
By Gene G. Marcial
Before it's here, it's on the Bloomberg Terminal.
LEARN MORE