Don't Rule Out A Rate Hike
Inflation pressures may be easing, and the financial markets are behaving as if a slowdown in inflation greatly reduces the odds that the Federal Reserve will have to raise interest rates. Yet some economists believe signs of an improving economy and tight labor markets mean rate hikes cannot be ruled out.
When the Fed met on June 27-28 to discuss monetary policy, its preferred inflation measure—the personal consumption expenditures price index minus food and energy—had eased to a yearly pace of 2%, its lowest level in over a year, and just within the Fed's 1%-to-2% comfort zone.
The policymakers, however, are keenly focused on how tightly the economy is still wound, even after growth near 2% in real gross domestic product over the past year, which should have been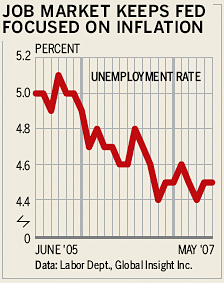 slow enough to open up some spare production capacity to ensure inflation stays cool. The very low jobless rate of 4.5% indicates that hasn't happened.
But the conflicting messages from real GDP and the jobless rate don't necessarily balance out. "We read the historical evidence as suggesting it is prudent to give more weight to the low level of the unemployment rate," economists Dean Maki and Julia Coronado at Barclays Capital (BCS ) wrote in a recent economic research note. One reason for that view is the jobless rate is not subject to big revisions such as real GDP and the PCE price indexes (see BusinessWeek.com, 6/26/07, "Stocks: Numbers Do Lie").
What's more, Coronado points to historical precedent. In 1997 the central bank raised rates once despite benign inflation readings and GDP data showing slower growth. The central bank acted because the jobless rate was still falling and it expected the economy would soon expand at a quicker pace. The 1997 example is also useful because economic growth was later revised to show a strong pickup, not a slowdown, in the first half of that year.
If the economy keeps on showing signs of improvement and the jobless rate inches down further, Coronado believes, "the Fed may have no problem raising interest rates to head off a potential rise in inflation."
Join a debate about whether stocks are ready for a fall
By James Mehring
Before it's here, it's on the Bloomberg Terminal.
LEARN MORE