Traditional Radio to Pay for Play?
The music industry is lobbying Congress to get so-called terrestrial radio to pay royalties just like its Web and satellite siblings
by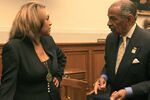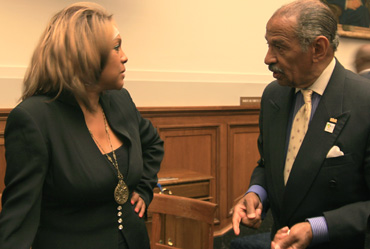 First it was online music swapping, then Web radio. Now, the music industry is taking aim at something really big: traditional radio, a $20 billion industry that has, in its 80-plus years of existence, played songs without paying music labels and singers a dime.
Aside from the occasional royalty scuffle across those decades, the music industry has always been happy to let radio stations play songs for free, treating it as a necessary marketing expense for the songs and albums they wanted listeners to buy. In fact, in the past, some deejays had been accused of illegally accepting payments from record labels for spinning certain songs.
But with more music lovers consuming their passion over the Internet and through satellite broadcasters XM Satellite Radio (XMSR) and Sirius Satellite Radio (SIRI), the free exposure offered by FM and AM radio is no longer quite so valuable. And with online file swapping eating away at revenue despite the legal victories in that arena, the music industry wants all broadcasters to pay for its product.
A Push to Revisit Copyrights
That's all well and good, except for a federal law that exempts traditional radio from royalty payments other than those paid to songwriters and composers. So since mid-June, some 133 singers, musicians, and industry organizations, including the Recording Industry Association of America (RIAA), have joined what's called the musicFIRST coalition, a group that hopes to push Congress to re-examine the Digital Millennium Copyright Act of 1998.
No official hearings have been scheduled as yet, but the coalition tells BusinessWeek.com that the House Judiciary Committee is expected to take up the matter sometime in July. Already, an array of coalition representatives, including Mary Wilson of the Supremes and soul singer Martha Reeves, have met with Judiciary Committee Chairman John Conyers (D-Mich.). "What we are asking is that performers do get a full royalty," musicFIRST's Executive Director Mark Kadesh says. "Almost the entire rest of the world does it" that way.
It's hard to argue why traditional radio should be treated differently from satellite and Web broadcasts, which already pay performance royalties. And yet this is a nearly century-old arrangement the industry is trying to undo. "There's such a long history of radio and record industries working as they have," says Mark Fratrik, a vice-president at consultancy BIA Financial Network. "To move to payments will be very, very hard."
Radio Now Seen as a Competitor
The obvious motivation to break with tradition is declining revenue: Total sales from music CDs and digital downloads fell 6.2% last year, from $11.5 billion in 2006. But there's desperation on both sides of this divide. AM and FM advertising have been savaged by the emergence of Web and satellite radio, as well as the ease with which digital music allows listeners to create their own personalized "broadcasts."
Some experts argue that radio, long seen as an industry ally, is now more of an enemy. In a study published earlier this year, University of Texas at Dallas economics professor Stan Liebowitz argues that radio acts as a substitute for music sales. "I am not disputing that radio is very good in picking which songs are going to become very popular," says Liebowitz, the director of Center for the Analysis of Property Rights & Innovation at the university. "But if radio didn't exist, we could see a 50% to 60% increase in record sales." How so? Instead of listening to the radio in their cars, Americans might buy more CDs or digital recordings, he says.
It's with such conclusions in mind that the music industry is embarking on a multipronged strategy to get all types of radio paying to play. Spearheading many of these efforts is SoundExchange, which collects royalties on behalf of labels and artists. Headed by former entertainment lawyer John Simson, the organization has emerged as a force in policing the radio side of the industry much as the RIAA has taken the lead in strong-arming illegal downloaders.
Fighting Higher Royalty Rates
SoundExchange is already seeking "fair" royalties from the satellite radio industry, which agreed, years ago, to pay an estimated 4% of revenue from music-related ads and subscription fees. Since June 4, the government's Copyright Royalty Board (CRB) has been holding hearings that could result in new royalty rates on satellite broadcasters XM and Sirius even though they're both losing money—a major reason why the two companies hope to merge (see BusinessWeek.com, 3/1/07, "XM-Sirius Grilled on the Hill"). A decision is expected by yearend.
SoundExchange is also locked in negotiations with Webcasters including National Public Radio, Yahoo! (YHOO), and Pandora Media. The Webcasters are fighting the higher online royalty rates imposed by the CRB in March (see BusinessWeek.com, 3/7/07, "The Last Days of Internet Radio?"). Smaller Webcasters, many losing money or barely profitable, claim the new rates, due to take effect retroactively on July 15, will push them out of business (see BusinessWeek.com, 6/29/07, "Webcasters' Plea Falls on Deaf Ears").
But it's traditional terrestrial radio, where ad sales remain far larger, that promises the richest pickings. Notably, at least one major radio network recently pulled out of active negotiations with SoundExchange over Web royalties to focus all of its energies on the looming musicFIRST threat, an industry insider tells BusinessWeek.com.
Hitting Them When They're Down
The music industry is going after terrestrial radio just when it's at its weakest. Traditional radio companies' revenues rose only 0.5% in 2006. And "this year, it hasn't even been in the positive yet," BIA's Fratrik says. While operating profit margins of popular radio stations in large markets can reach 40%, many smaller stations scrape by on 10% to 15%, and some are already losing money, he estimates. Additional royalties on top of those paid to songwriters and composers "could have a tremendous impact," Fratrik says.
No wonder radio companies are gearing up for a fight. "A performance tax on radio makes no sense," writes Andy Levin, chief legal officer at Clear Channel Communications (CCU) in a statement to BusinessWeek.com. "Congress has recognized for more than 70 years that the record labels receive a substantial benefit from the airing of their music on free radio. They are basically receiving free advertising. This idea is just plain backwards. They should be paying us to play their music. Unfortunately, that's against the law."
Before it's here, it's on the Bloomberg Terminal.
LEARN MORE