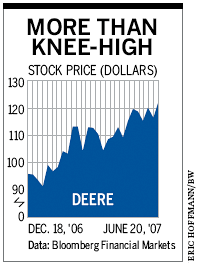 Two opposing views are in a tug-of-war over Deere (DE ), the world's largest maker of agricultural equipment (page 76). The party is over, argue the bears, after a stock surge from 68 in August to 121.97 on June 20. Not so, say the bulls. "The good news has just started, and we see the stock at 150 in 12 to 15 months," says William Harnisch at hedge fund Peconic Partners, which owns shares. Farm sales will pick up in the second half because of strong global demand for human and animal food, he says, and ethanol will keep boosting corn sales. So farmers will need more tractors and such, figures Harnisch. Deere also manufactures in China and recently agreed to buy a big maker of low-horsepower tractors in Southern China. Robert Wertheimer of Morgan Stanley (MS ) says his "outperform" rating on Deere is based on a view that "we are in the beginning of a multiyear boom in agricultural equipment, and that Deere is well-positioned to beat the industry." He expects corn prices will remain high for several years and forecasts operating income peaking in 2010--but still "very strong through 2012." Goldman Sachs (GS ) rates Deere a buy and raised its fiscal 2007 earnings estimates from $6.65 a share to $7, and for 2008 from $9 to $9.20 because of stronger gear sales volume and better-than-expected second-quarter earnings. Deere earned $6.35 in 2006.
Note: Unless otherwise noted, neither the sources cited in Inside Wall Street nor their firms hold positions in the stocks under discussion. Similarly, they have no investment banking or other financial relationships with them.
By Gene G. Marcial
Before it's here, it's on the Bloomberg Terminal.
LEARN MORE