Inflation Looks Tamer, But For How Long?
Resilient demand and stronger growth will stoke new price pressures
Inflation readings have taken a turn for the better, at least the ones Wall Street and the Federal Reserve care the most about. The so-called core price indexes at both the wholesale and retail levels, those that exclude the gyrations in energy and food prices, were especially tame in May, and the yearly inflation rate in each sector has edged lower this year. Will these favorable trends continue? That's the question so crucial to where Fed policy and the financial markets are headed.
The answer, most simply, will boil down to how much muscle the economy shows over the next two or three quarters. Of course, forecasting is never simple. The Fed will be wrestling with this and other issues when it meets to set interest rate policy on June 27-28. The confab will be an important one, because the policymakers will be hashing out their economic forecast, which Chairman Ben Bernanke will deliver in the Fed's Monetary Policy Report to Congress in mid-July.
Right now economists outside of Washington are mostly split into two camps. The growth bears believe the housing slump will weigh heavily on the economy and on consumer spending in particular. The bulls think the economic slowdown is over, and consumers will hold up just fine as the rest of the economy chugs along. The bears see inflation continuing to ease. The bulls expect it to pick up.
Who will be right? The way the second quarter is shaping up, based on the latest economic reports, the growth bulls make the stronger case—at least for now. As seen in May's surprising strength in retail sales, consumers have shaken off the housing recession and $3-a-gallon gas, and the recent jump in long-term interest rates, while a further negative for housing, has not been enough to add much new pressure on consumer spending. The rest of the economy is doing better, too.
Consumers are getting plenty of buying power from the income generated by strong job markets and from the wealth gains coming from rising stock prices. Both factors were at work in the second quarter, and there is little on the horizon to suggest any big change in the economy's momentum as the second half gets under way.
TO SOME EXTENT the downward drift in core inflation reflects the lagging effect of the housing-led slowdown through the first quarter. Softer demand has begotten softer prices for construction materials and home-related goods and services, with the effects spreading to other areas, such as autos and business equipment. Efforts to sell off inventories that had piled up as demand eased also has placed downward pressure on prices.
As a result, yearly consumer inflation, measured by the core consumer price index, has ebbed, from a peak of 2.9% in September of last year to 2.2% in May. Even including energy and food, inflation is running at only 2.7%. At the same time, core producer price inflation for finished goods has slipped from 2% to 1.6%.
Not only that: Inflation in the earlier stages of production has fallen substantially, suggesting waning price pressure in the production pipeline. Core inflation for prices of semifinished intermediate goods, such as auto parts, has dropped from 8.3% last year to 2.9% in May, and prices of crude materials, which had been growing nearly 37%, are now rising at only a 9.2% clip.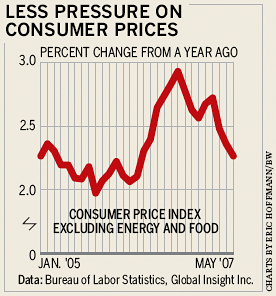 These trends will most likely carry over into the Fed's preferred inflation gauge, called the core price index for personal consumption expenditures. That measure through April is running at 2%, which is the upper bound of the stated 1%-to-2% "comfort zone" of many policymakers. There is a good chance the rate will slip below 2% this summer for the first time in more than three years. That development would be strong justification for the Fed to keep interest rates on hold, possibly for the entire second half of the year.
HOWEVER, THE FED'S HORIZON for inflation goes well beyond the next few months. The economy's gathering momentum is a warning that recent inflation progress may not continue. Businesses are now rebuilding their inventories, so that source of downward pricing pressure is abating. Also, the slowdown over the previous year did little to vent the potential price pressures in the labor markets and in production capacity, areas where the Fed is keenly concerned about future inflation. Moreover, the Fed does not completely ignore energy and food prices, especially in a strong economy where producers have greater ability to pass along higher costs to consumers.
Many economists have revised their forecasts for second-quarter economic growth into the 3.5%-to-4% range. The growth bulls say that's a sign the slowdown is over. The bears don't deny the quarter's strength, but they say it won't last. If the bulls are right, job markets will only get tighter, and plant utilization rates will only increase. The Fed has said repeatedly that growing constraints on the economy's production capacity could push inflation higher.
One thing that separates this business cycle from those past is the growing global influence on U.S. inflation. Overseas labor markets and production capacity are also tight and getting tighter, reflecting several years of strong growth. As a result, prices of U.S. imports are accelerating. For the three months through May, prices of imported consumer goods, excluding autos, are up 1.7% from a year ago, the fastest such advance in more than a decade. This time last year those prices were falling.
RESILIENT DEMAND, especially by consumers, is why the pressures under inflation are unlikely to fade away permanently. May's unexpectedly strong 1.4% surge in retail sales all but guarantees a decent contribution to second-quarter economic growth from consumer spending, while ongoing gains in household income and wealth suggest continued support in coming months.
Reflecting solid job growth, aftertax income of households through April was up 5.6% from a year ago and 3.4% after subtracting inflation. That pace has been sufficient to keep real outlays growing well above 3%, and the jobs outlook remains bright.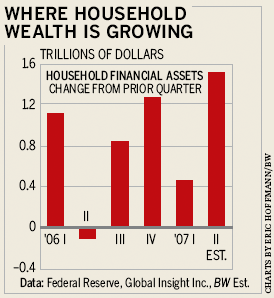 Through mid-June, weekly claims for jobless benefits, which tend to foreshadow future job growth, remained low, with monthly payroll gains greater than the 133,000 per month averaged so far this year. Also, the latest hiring survey by Manpower shows hiring plans in the third quarter holding at the second-quarter rate.
Households are also getting a big boost in spending power from the stock market. Based on the Dow Jones (DJ ) Wilshire 5000 stock index, household financial assets grew by about $1.5 trillion in the second quarter. So even if home values don't rise at all, household net worth will increase three times faster than it did in the first quarter. And, remember, wealth gains support consumer spending well after they accrue.
As long as consumers keep spending, not even a continuing drag from the housing slump will prevent the economy from growing at a healthy clip. The problem is, growth is beginning to look a little too healthy to assure that inflation will remain benign.
By James C. Cooper
Before it's here, it's on the Bloomberg Terminal.
LEARN MORE