Home Sales: Optimism May Be Misplaced
The recovery in mortgage applications to purchase a home has caught economists' attention. The increase seemingly points to better home sales. But there are reasons to be skeptical about the latest mortgage activity figures while other housing data show no signs of improvement.
In May, applications to purchase a home rose for the third straight month and were up 6.7% from a year ago, according to the Mortgage Bankers Assn. The data are traditionally viewed as a leading indicator of home sales, offering some hope that more buyers are entering the market.
Other gauges of future housing demand still look bleak, though. The National Association of Realtors' April Pending Home Sales Index, which tracks signed contracts for existing homes, fell 3.2%. And in June, the National Association of Home Builders' Housing Market Index hit a more than 16-year low on softer sales and fewer visits to model homes.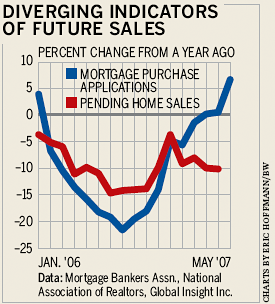 Which numbers should we believe? The applications data may be overstating demand, according to Michelle Meyer, an economist at Lehman Brothers (LEH ). First, the MBA does not survey mortgage brokers who use third parties to fund loans. These independent brokers probably gained market share during the housing boom and subsequently lost business as credit standards tightened this year. The data "likely understated applications last year and overstate applications today," says Meyer. Plus, a rise in denials and an increase in multiple applications among those rejected may be inflating the MBA's figures.
While all three factors could affect the applications data, MBA economist Jay Brinkmann does not believe the impact is significant. However, he does note that applications did not fully reflect stronger home sales in late 2005 and early 2006 because of the jump in subprime lending and greater use of independent brokers.
If the applications data are not fully capturing the impact of tighter lending standards on demand, then the more downbeat indicators may accurately show that sales have further to fall.
By James Mehring
Before it's here, it's on the Bloomberg Terminal.
LEARN MORE