A Defense Partner At Cleveland BioLabs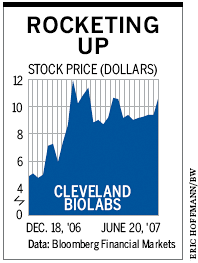 The military may be the first customer of little-known Cleveland BioLabs (CBLI ) for its radiation protection compound called Protectan or CBLB502. The company had responded to a Defense Dept. Request for Proposal in April. "It is likely Cleveland BioLabs will get a government contract for its product by summer's end," says Stephen Brozak of WBB Securities, who rates the stock a buy. It has rocketed from 4.80 in September, when it was first featured in this column, to 10.59 on June 20. Brozak says no other product offers the same level of protection from radiation exposure. CEO Michael Fonstein says Protectan has the ability to mitigate the damaging effects of ionizing radiation on the gastrointestinal system and shows significant survival benefits suited to the Defense Dept.'s requirements. Brozak says the contract could go as high as $200 million based on similar awards. Walter Schenker of Titan Capital Management, which owns shares, says Protectan has shown effectiveness against radiation when applied two hours prior to exposure or up to eight hours after.
Note: Unless otherwise noted, neither the sources cited in Inside Wall Street nor their firms hold positions in the stocks under discussion. Similarly, they have no investment banking or other financial relationships with them.
By Gene G. Marcial
Before it's here, it's on the Bloomberg Terminal.
LEARN MORE