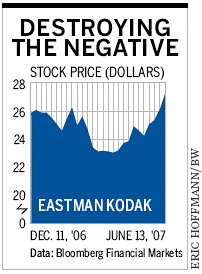 Eastman Kodak (EK ) is in a bind: Once a blue-chip highflier, it has become almost a pariah on the Street. Six of the 10 major analysts rate it a "sell," and the rest say "hold" or "neutral." Disappointing sales and earnings due to fierce competition from such rivals as Sony (SNE ) and Canon (CAJ ) and high costs from turnaround efforts have soured the Street on Kodak. Yet the stock has rebounded this year, zooming from 18 in August, 2006, to 27.01 on June 13, near its 52-week high. One of its biggest fans is top fund manager Bill Miller, whose Legg Mason (LM ) Capital Management owns a 24% stake. Other Kodak bulls: Brandes Investment Partners with 12%; Private Capital Management, 10%; and Templeton Global Advisors, 8%. Most of Kodak's woes stem from hefty restructuring costs, related to plant closings and the sale of its health-care business. But by 2008 those costs will be in the past, so the bulls expect huge free cash flow for Kodak. Gregory MacArthur of investment adviser Viewpoint 2000 says most analysts haven't factored Kodak's possible upturn in 2008 into their estimates. As more investors get interested in big-cap laggards, this is a chance to get into Kodak, says MacArthur, who values the stock at 32. Kodak expects to finish moving its photo products to digital by 2008, and it is betting on major inroads in the commercial printing business, notes Morningstar (MORN ) in a report. Thomson First Call (TOC ) consensus forecasts are for earnings of 47 cents a share in 2007 and 82 cents in 2008, vs. 51 cents in 2006.
Note: Unless otherwise noted, neither the sources cited in Inside Wall Street nor their firms hold positions in the stocks under discussion. Similarly, they have no investment banking or other financial relationships with them.
By Gene G. Marcial
Before it's here, it's on the Bloomberg Terminal.
LEARN MORE