Interest Rates Are Up, But Are They Up Enough?
Financial conditions may still be too lax to keep inflation under wraps
Ever since the Federal Reserve stopped raising interest rates, about this time last year, Fed policymakers have had an easy go of it. They only needed to sit back and wait for past rate hikes to slow the economy and relieve pressure on inflation. Everything was going well until a couple of weeks ago, when it became evident the economy was picking up again—and with no real assurance yet that any steam under prices had been vented. Consequently, bond yields have soared as investors have given up hopes that the Fed will cut rates, especially as central banks overseas continue to bump up rates amid signs the global economy is booming.
All this signals that the policy road ahead is going to get a lot rockier. For the first time in a year investors are starting to weigh the chance that the Fed may have to lift interest rates, perhaps later this year. Much depends on one key question: Just how tight is monetary policy right now, not only in the U.S. but overseas? And is it tight enough? The surprising resilience of the U.S. economy this quarter and the continuing strength abroad suggest financial conditions around the world are still too loose to assure inflation stays under control.
TO SOME EXTENT, THE RISE in bond yields, to a five-year high of 5.29% on June 12 for the 10-year Treasury note, helps the Fed with its anti-inflation work. However, most of that jump will be felt in housing activity, which is not where the Fed would like to see more rate pressure. As of June 12 the national average of 30-year fixed rates stood at 6.87%, up from 6.39% in May, according to HSH Associates. Still, that's not a big move, and with job markets strong and household wealth at record levels, prime mortgage borrowers will not be deterred by that small rise. The subprime bubble has already burst, and most of the damage there has been done.
The rise in bond yields adds only a smidgen of new constraint to the rest of the economy. The current level is far from alarming, and overall financial conditions remain favorable.
For example, although the stock market has recoiled in recent days, as of June 12 stock prices measured by the broad Dow Jones Wilshire 5000, the best gauge of household stock wealth, are still up 4.7% for the second quarter and 5.8% for the year. In addition, yield spreads between riskless Treasuries and riskier corporate bonds remain narrow, a sign that credit is flowing freely. Measures of bank-lending standards for corporate loans and nonmortgage consumer loans are still accommodative. Also, the lower dollar is making U.S. assets more attractive to foreigners.
The Fed faces a tricky dilemma. It's beginning to look as if the economy could use two separate monetary policies, one for a sagging housing sector and one for everything else. The Fed's current target rate, at 5.25%, seems right for allowing housing to regain its footing slowly. But it may be too stimulative for the rest of the economy. The problem is that higher rates could push housing even deeper into recession.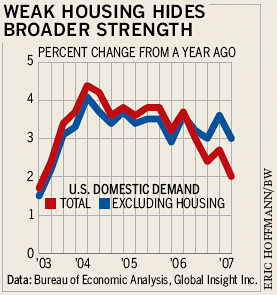 Consider that growth in U.S. domestic demand, which includes imports but excludes exports and the ups and downs in inventories, has slowed to a yearly pace of only 2%, from a 3.7% clip this time last year. But housing has accounted for almost all of that drop-off. The other 95% of domestic spending continues to grow in the same 3%-to-3.5% range of the past two years. This quarter, even including housing, economists are upping their forecasts for overall economic growth to 3% or better, and a few believe it could go as high as 4%.
At the same time, growth overseas is on a tear—a trend the Fed has no control over, and one that is helping to stimulate U.S. growth as exports soar. Central banks from the euro zone and Britain to Canada and the Pacific Rim are lifting rates in an effort to preempt inflation, and analysts agree they have more work to do.
BY ONE KEY MEASURE, monetary policies around the globe don't look restrictive at all: the central banks' real policy rates—that is, the target rate adjusted for inflation. The Fed's real target rate, currently close to 3%, is about half a percentage point above its long-run average, but in past periods of Fed tightening, it has gone much higher.
The real rate in Britain is close to that in the U.S., while in the euro zone, Canada, and Japan, real policy rates are even lower. Central banks have been lifting interest rates, largely in an effort to get them back to normal levels after pushing them to abnormally low depths during the global deflation scare in 2003-04. Historically, policy rates are generally not up to levels that would indicate outright restraint against the forces of growth.
TO A GREAT EXTENT, past low interest rates are still working against the Fed's efforts to assure a noninflationary growth rate for the U.S. Those effects show up in how low rates, both at home and abroad, have buoyed a wide range of asset values, from corporate equity to home prices. The net worth—assets minus liabilities—of both households and corporations each rose to record levels in the first quarter, based on the Federal Reserve's latest accounting.
American corporations remain in exceptionally strong financial shape, and over the years they have reduced their exposure to spikes in interest rates. Since 2000, businesses have increased their share of fixed-rate long-term debt, from 61% back then to 73% in the first quarter of 2007, and overall debt as a share of net worth, while up marginally in the past two quarters, remains at low levels not seen in two decades.
Companies in the first quarter also had a gusher of cash flow, totaling $1.1 trillion, which was sufficient to finance all of their capital spending. And much of recent corporate borrowing has gone to buy back stock. Net corporate equity has dropped by $1 trillion over the past two years.
U.S. households are in good fettle financially, despite dire headlines about high debt, low savings, and weak home prices. Look at May retail sales: Despite the bite from $3-a-gallon gas, they blew away expectations, rising 1.4% from April, the biggest gain since January, 2006. And the gains were broad, not just confined to higher pump prices pushing up receipts at gas stations.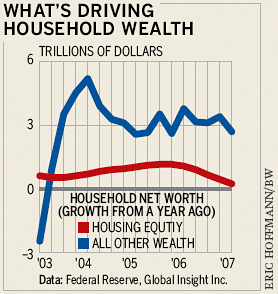 One reason consumer spending is so resilient is that household net worth rose to an all-time high of $56.2 trillion by the end of the first quarter. Over the past year, household liabilities have soared by $1 trillion, but assets are up $3.9 trillion.
By the Fed's measure, homeowners' equity—home values minus mortgages—has flattened out recently but is still up 2.1% from a year ago. Meanwhile, household financial assets, mainly stock market gains, are still lifting overall wealth. Even with the latest pullback in stock prices, the boost to second-quarter net worth will be substantial.
So, investors beware: As long as overall financial conditions are as supportive of growth as they are now, both in the U.S. and overseas, there's a risk that the vigorous economy could fuel inflation somewhere down the road. Central bankers know the surest way to prevent that is higher interest rates.
By James C. Cooper
Before it's here, it's on the Bloomberg Terminal.
LEARN MORE