A Growing Appetite For U.S. Goods
The global economy is still running hot. Factories are using up available capacity, and labor markets are getting tighter. That means more capital and consumer spending abroad, which should translate into increased demand for U.S. goods and services.
According to calculations by BusinessWeek, global capacity utilization outside the U.S. continues to climb. An index made up of 33 countries, including Japan, Brazil, and those in the euro zone, but not India or China, continued to climb during the first quarter of 2007. Even including the weak performance of U.S. manufacturers in the past two quarters, the utilization rate is still at levels not seen since 2000. Continuing strength abroad and a rebound among U.S. manufacturers will probably lift operating rates higher in the second half of the year, says JPMorgan Chase (JPM ) economist David Hensley.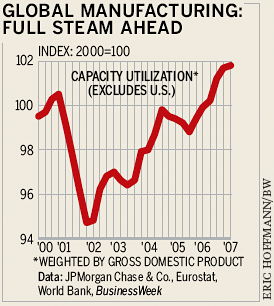 Also, unemployment rates across the globe are falling as businesses hire workers to keep up with demand. In April the Japanese jobless rate hit its lowest level since early 1998, while Canada's held at a 33-year low of 6.1%.
The combination of busier factories, tighter labor markets, and a weaker dollar will feed back into higher U.S. export and factory activity, says Hensley. The need to expand capacity is fuel for makers of capital goods, which are more than a quarter of all exports. Plus, strong personal spending abroad has been a boon for producers of consumer goods, whose exports have grown at a double-digit rate (annualized) for six quarters in a row.
The small 0.2% rise in April exports followed a 2.6% surge in March, putting second-quarter exports on a high level. And in May the business activity reports from the Institute for Supply Management showed further improvement in demand from abroad. The ISM's index of foreign orders taken by nonmanufacturers hit a record high. If the global economy keeps rolling along, the rise in exports means that a smaller trade gap in 2007 could boost U.S. economic growth for the first time in over a decade.
By James Mehring
Before it's here, it's on the Bloomberg Terminal.
LEARN MORE