Where To Dig For Value In Greece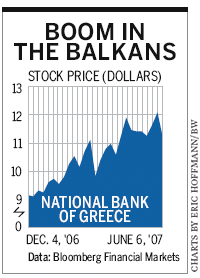 Value investor John Maloney is finding it tough locating great buys in the U.S. So where does he dig? Greece. Maloney, president of M&R Capital Management, bought shares in National Bank of Greece (NBG ), the country's No.1 bank, which is growing 25% a year, vs. an average of 10% for European banks. Maloney sees NBG as a play on booming Southeastern Europe. Through acquisitions, NBG is in Bulgaria, Romania, Serbia, and Turkey, which have probusiness monetary and fiscal policies that keep inflation and interest rates low. Maloney sees earnings of $2 billion, or 83 cents an ADR, in 2007, up from $1.2 billion, or 60 cents, in 2006. In 2008, he expects earnings to jump 25%, to $1.04 per ADR. He thinks the stock, now at 11.30, will hit 21 in two years. Ronit Ghose of Citigroup (C ) in London, who rates NBG a buy, believes that by 2009 it will derive 45% of its profits outside Greece, with Turkey bringing in 30%. "NBG remains our top pick in Greece," says Ghose, with its "strong home market, exposure to rising deposit spreads, and a high-growth Southeastern European franchise." Citigroup has done banking for NBG.
Note: Unless otherwise noted, neither the sources cited in Inside firms hold positions in the stocks under discussion. Similarly, banking or other financial relationships with them.
By Gene G. Marcial
Before it's here, it's on the Bloomberg Terminal.
LEARN MORE