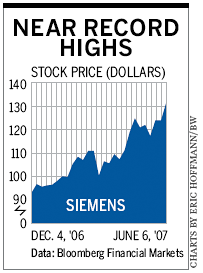 Even as scandal rocked Germany's Siemens (SI ) in recent months, its stock has rolled. The engineering and electronics powerhouse saw its American depositary receipts (ADRs) vault from 76 a year ago to 130.29 on June 6. And they should keep climbing, say some pros, with the naming of a new chief. Although not personally implicated, CEO Klaus Kleinfeld has resigned, along with other senior officers, and in mid-May a German court convicted two former executives of bribery. But strong earnings bolstered the stock, and chances are new boss Peter Löscher, a General Electric (GE ) and Merck (MER ) veteran, who takes over on July 1, will lead Siemens to higher ground, analysts say. "Without belittling the challenges Siemens faces from the bribery scandal, we think investors will now pay attention to earnings," says Michael Hagmann of UBS (UBS ) in London. Siemens vowed to "become faster, more focused, and less complex." Hagmann, who rates Siemens a buy, upgraded his price target from 137 to 145, reflecting his increased 2008 sales and earnings forecasts. Gaël de Bray of Société Générale (SCGLY ) in London says a new CEO "removes much uncertainty" and should let investors refocus on Siemens' "improving performance and potential for portfolio restructuring." Löscher has held top jobs that involved "transforming a company," says de Bray, who also rates Siemens a buy. He sees earnings of $4.13 a share in 2007, $9.68 in 2008, and $11.28 in 2009, up from $4.13 in 2006.
Note: Unless otherwise noted, neither the sources cited in Inside firms hold positions in the stocks under discussion. Similarly, banking or other financial relationships with them.
By Gene G. Marcial
Before it's here, it's on the Bloomberg Terminal.
LEARN MORE