U.S.: Stop Thinking Rate Cut, Start Thinking Rate Hike
With economic growth rebounding, it's time to revise expectations
After a long and pleasant dream about the Federal Reserve cutting interest rates, the financial markets are beginning to wake up to reality. That is, maybe the Fed's next move will be not to lower rates but to raise them. We won't see action anytime soon, but market expectations are starting to turn 180 degrees from where they were only a month or two ago.
Most Wall Street Fed watchers who had been predicting the central bank would cut rates are already either pushing those forecasts further into the future or abandoning them altogether. And options trading in federal funds futures, which can offer a reading on what the market expects the Fed's rate will be, implies a 43% chance that policymakers will lift rates by their Dec. 11 meeting, according to data compiled by Bloomberg Financial Markets. A month ago the chances were zero. All this has pushed the yield on 10-year Treasuries close to 5% in early June, up from about 4.6% in early May.
What has changed? Economic reports are making it increasingly apparent that the slowdown in the economy is over, with little if any progress on either loosening up the labor markets or bringing inflation permanently back into the Fed's comfort zone. In fact, with the economy's growth prospects improving, any wage and price pressures from the job markets will most likely increase in the months ahead, not decrease.
The minutes of the Fed's May 9 meeting, released on May 30, showed a bit less concern among policymakers about an overly weak economy, and those worries have undoubtedly diminished further since that meeting. At the same time, inflation risks remain the Fed's predominant concern, as Fed Chairman Ben Bernanke reiterated in a speech on June 5. Although Bernanke expects inflation to "moderate gradually," he admitted "the risks to this forecast remain to the upside."
RECENT REPORTS only heighten those risks. The Fed is especially concerned about "high resource utilization." That's Fedspeak for a very low unemployment rate. Officials noted on May 9 that "the apparent tightness in the labor market remained a significant source of upside risk to inflation." The Fed has been expecting the economic slowdown to loosen up the job markets a bit, which would offer some assurance that inflation would moderate, as the policymakers would like to see.
The Labor Dept.'s May jobs report threw cold water on that hope. Joblessness held at April's rate of 4.5%, which was close to the 4.4% low for this business cycle. Companies increased their payrolls by 157,000 workers last month, slightly more than the 133,000 per month averaged so far this year. That pace is close to the rate of job growth typically associated with a steady-to-falling unemployment rate. Based on the way the economy is shaping up, the jobless rate could head lower still.
ALTHOUGH WASHINGTON revised first-quarter growth in real gross domestic product down to a puny 0.6% from its original estimate of 1.3%, the overall implication for future economic growth, based on the details of the report, was clearly encouraging.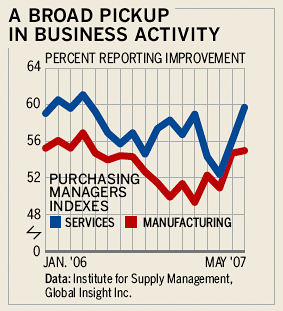 The GDP numbers showed that demand from U.S. consumers and businesses grew 2.5% during the quarter, a faster annual rate than first estimated. That pace was a speedup from 1.8% during the previous three quarters and the fastest in a year. The biggest downward revision to GDP was inventories. This combination of stronger demand and lower inventories sets the stage for a bounceback, perhaps a considerable one, in ordering, production, and hiring in the coming months.
That upbeat scenario has gained support from a bevy of weekly and monthly data on activity at the end of the first quarter and so far into the second quarter. For example: the unexpected strength of May's indexes of both manufacturing and service-sector activity compiled by the Institute for Supply Management. Many economists, even some with bearish growth outlooks, are boosting their forecasts for second-quarter growth into the 2.5%-to-3% range, and some believe the major risk of that forecast is that it could be too low.
While Fed officials said on May 9 they believed the contraction in homebuilding "would continue for longer than previously expected," a position Bernanke repeated on June 5, policymakers also project the size of housing's drag on the economy will begin to wane this year. At the same time, the rest of the economy is looking stronger. By almost all accounts consumer spending, business investment, and exports remain firmly supported, and they will contribute positively to growth this quarter and in the second half.
START WITH CONSUMERS. In the face of $3-a-gallon gas, key gauges of consumer confidence held up well in May, chiefly because job markets are generating income and stock market gains are boosting household wealth. Consumer outlays in the first quarter were revised upward to show a 4.4% growth rate, instead of 3.8%; over the past year they have grown a solid 3.5%. Granted, high pump prices are bound to take a bite out of second-quarter spending. Based on the April level of consumer spending, outlays this quarter appear to be growing at about a 2% clip. That would be slower but far from weak.
Business investment in new equipment and buildings was also revised up in the first quarter, and the monthly data on capital goods orders and shipments, along with outlays for new business construction, suggest companies are making an even bigger contribution to growth this quarter. Businesses are also increasing their spending for new inventories, which promises to give a sizable boost to overall growth.
Business construction is accelerating. During the first four months of 2007, outlays for factories, commercial building, lodging, and other projects have grown at a 21% (annualized) rate, a sharp increase from the 3% pace in the final four months of 2006. In fact, those gains have more than offset the losses in homebuilding. Add in the uptrend in public projects and a smaller drag from the residential sector, and overall construction is shaping up to be another source of growth this year.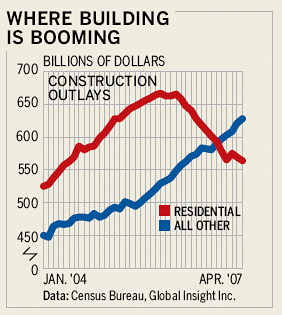 And don't forget exports. One anomaly in the first-quarter GDP data was the large widening in the trade deficit. Exports fell 0.6% last quarter, counter to the recent trend. However, exports rebounded sharply in March, and in May the Institute for Supply Management's index of export orders rose to its highest level since December, 2004. A smaller trade gap will almost certainly boost second-quarter growth, while the ongoing strength in foreign demand and the lower dollar suggest trade could be a rare economic plus for the full year, after more than a decade of being a minus.
Despite the economy's brightening prospects, the Fed will most likely be happy to maintain the status quo with its policy rate for the rest of the summer, at least. That's especially true while housing remains shaky. But if the data continue to show the same vigor that they have of late, and if the labor market keeps getting tighter, rates could end the year higher, not lower.
By James C. Cooper
Before it's here, it's on the Bloomberg Terminal.
LEARN MORE