Green-Lighting Tomorrow's Blue Chips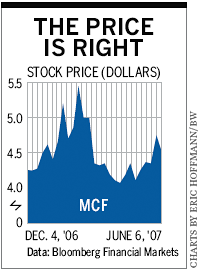 Some call them microcaps, but MCF (MEM ) Chairman Jonathan Merriman sees these undiscovered low-cap, high-growth companies as tomorrow's blue chips. And they are providing MCF, a small financial services outfit, with a fast-growth business. With less than stratospheric valuations, microcaps are "orphans" on Wall Street, he says. MCF's Merriman Curhan Ford unit "provides investment banking and research services that help them grow and get institutional attention," says Merriman. MCF sales, up from $6.5 million in 2002 to $52 million in 2006, should hit $100 million in a year or two," says Scott Potter of San Francisco Equity Partners, which owns 7%. MCF fills a void, he says, and the stock, now at 4.45, is cheap, considering MCF's 50% yearly revenue growth rate. David Trone of Fox-Pitt Kelton rates it "outperform" and sees MCF in the black in 2007. He upped his 2007 estimate from 2 cents a share to 4 cents, and his 2008 from 5 cents to 8 cents. His 12-month stock price target: 8.
Note: Unless otherwise noted, neither the sources cited in Inside firms hold positions in the stocks under discussion. Similarly, banking or other financial relationships with them.
By Gene G. Marcial
Before it's here, it's on the Bloomberg Terminal.
LEARN MORE