Corporate Profits: An Overseas Engine For U.S. Earnings
Despite a sharp slowdown in the U.S. economy, the hot growth in corporate earnings hasn't cooled as dramatically as market watchers expected. A key reason is the strength of foreign earnings, and those should continue to play a big role this year.
In the first quarter, earnings receipts from abroad grew 15.6% from a year earlier, far exceeding the 4.1% uptick in domestic earnings. Impressive overseas gains helped to push corporate profit margins up to 14.5%, from 14.2% at the end of 2006.
Foreign markets matter more now, "partly because economies abroad represent a bigger slice of the global economy," says Morgan Stanley (MS ) economist Richard Berner. That's showing up in the data. According to the Bureau of Economic Analysis, earnings from the rest of the world accounted for 26.1% of all profits in the first quarter, compared to, on average, 24.8% in the past five years.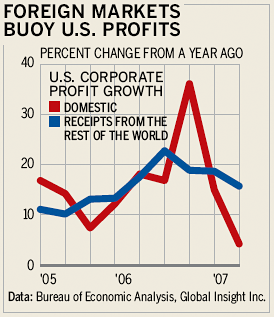 It's unusual to see such strong support from abroad while economic and profit growth at home wilts. Instead of moving in tandem, domestic demand in other countries has kept the global economy booming, even as the U.S. hit a major speed bump last quarter, with real gross domestic product up just 0.6%.
Another tailwind for profits is a weaker dollar. Earnings look bigger when converted from stronger currencies. Plus, a weaker greenback allows companies to go for market share by cutting the price of a good or service in foreign currency terms. Berner expects the past year's decline in the trade-weighted dollar to boost earnings by 0.5%, although the gain could be bigger since a large chunk of the recent fall has come against the euro. Roughly half of all foreign affiliate income comes from the euro zone, says Berner.
While foreign profits surged by an average of 19% per year since 2002, Berner expects they'll increase at a more modest clip this year as global economic growth edges down from last year's impressive 5.4% rate. Even so, foreign earnings should continue to outperform domestic proceeds and keep margins at lofty levels.
By James Mehring
Before it's here, it's on the Bloomberg Terminal.
LEARN MORE