U.S.: Is The Housing Recession Starting To Recede?
The drag on economic growth is easing, and home demand is firming up
It's still way too early to celebrate, but more and more signs suggest the housing recession is starting to ease its grip on the economy. That doesn't mean the slump will be quick to disappear, but beginning this quarter it looks as if housing's subtraction from overall economic growth will be considerably smaller than it has been, perhaps the smallest since the downturn began a year ago.
Over the past three quarters the residential-construction segment of real gross domestic product has robbed 1 to 1.2 percentage points per quarter from the economy's annualized growth rate. Clearly, reports on housing remain mixed, but many economists are encouraged by key trends in housing starts, new-home sales, mortgage applications, and other indicators. Some analysts even think the second-quarter drag will be half that of recent quarters.
Coming at a time when other first-quarter burdens on growth, including weak capital spending, top-heavy inventories, and a wider trade deficit, are showing signs of lightening up, a smaller negative from housing will be a positive for overall growth—not only in the second quarter but also in the second half.
KEEP IN MIND that housing's direct impact on economic growth comes from the new-home market, which contributes to construction activity. Action in the market for existing homes is an important indicator of demand and prices broadly, but it represents only an exchange of assets and doesn't add to GDP, except for the ancillary services and other activity it creates.
Right now homebuilders remain in the doldrums, with profits down and inventories high, and many of them think it will take years to regain the peak levels of activity hit in 2005. Nevertheless, several indicators of demand are looking firmer, which is what you would expect to see in advance of a bottoming out of home construction.
Sales of new and existing homes went in opposite directions in April, but there are signs that overall demand is stabilizing after last year's steep decline. Sales of new homes soared 16.2% in April, the largest monthly gain in 14 years, reaching an annual rate of 981,000. Purchases of existing homes fell 2.6%, to an annual pace of 5.99 million. Sales numbers in both sectors have been tossed around this year by the shifting weather, but total single-family sales—both new and existing—during the first four months of the year have averaged 5.5 million, about the same pace as in the final four months of last year.
One bit of corroborating evidence that demand has stopped falling is the trend in weekly mortgage applications to buy a home, which has been on the rise since February. Through May 25, the four-week average of new filings was at its highest level since early 2006, according to data from the Mortgage Bankers Assn.
ALSO, IT APPEARS the subprime loan debacle is not causing a broader restriction on credit that would depress home sales to prime borrowers. Subprime mortgages are almost exclusively adjustable-rate loans, for which applications are down sharply over the past year. However, new paperwork for fixed-rate mortgages is up 40% from a year ago.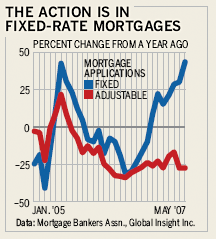 That pattern fits with the Federal Reserve's latest survey of bank-lending practices, which showed little in the way of tighter lending standards for consumers other than in the subprime area. Even outside of housing, credit conditions in the business sector remain favorable for financing new growth. Credit spreads between yields on no-risk Treasury bonds and moderately risky corporate securities remain narrow.
Inventories of unsold homes, both new and existing, remain high, which continues to exert downward pressure on prices. However, with the help of price cuts, builders are starting to make a dent in their stockpiles. In April the inventory of new homes dipped to 538,000, 6.1% below the peak hit in July of last year. Because of the big jump in sales, the month's supply of homes fell to 6.5 months, from a high of 8.1 months in March, but the supply is still far above the 4 to 4.5 months common before the slump.
The effect of softer home prices on affordability is clear. In the first three months of the year, affordability—based on the levels of fixed mortgage rates, home prices, and household income—was the highest in two years, according to the National Association of Realtors.
One big problem in gauging the path of housing is the government's data itself, especially for new-home sales, which do not account for cancellations of home orders. The popular take is that, because of cancellations, sales are worse than they look. However, an analysis by economists at JPMorgan Chase (JPM ) suggests just the opposite. Morgan researchers gathered directly from homebuilders data that are net of cancellations. They found net sales hit bottom in the third quarter of last year and have been edging higher since then.
Because the government's numbers exclude cancellations, the researchers argue, the data tend to overstate sales early in a housing downturn when cancellations shoot up, as in 2006. However, once a canceled sale finds a buyer, perhaps after a price cut, the government does not record that transaction as a new-home sale. Thus, as cancellation rates fall off, the sales numbers tend to be understated. The catch-up surge in April sales and the uptrend in mortgage applications tend to support that pattern. Plus, to any extent sales are being undercounted, the month's supply of inventories would be overstated.
EVEN IF HOUSING'S direct drag on economic growth is getting smaller, concerns remain about the indirect effects, mainly through softer home prices and the way they could influence consumer spending. But even after more than two years of decelerating home prices, the diminished availability of cash from home equity appears to have had little, if any, impact on consumers. In fact, even soaring gas prices haven't dented their confidence much: The Conference Board's index rose in May and is slightly higher than it was this time last year.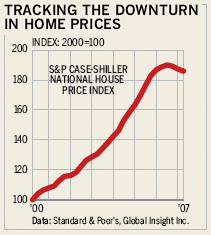 The Standard & Poor's (MHP )/Case-Shiller index for March shows house prices falling 1.4% from a year ago, with prices down in 13 of the 20 cities the index tracks. Economists like this index because it represents a constant mix of repeat sales of the same homes, and it attempts to control for quality improvements. Still, consider that prices are up 29.2% over the past three years and 64.3% over the past five years. Plus, the rise in stock prices and solid gains in incomes from strong job markets have been major offsets for consumers who might be worried about the value of their homes.
Obviously, homebuilders still have a long way to go. Sales, even net of cancellations, are still well below year-ago levels, says JPMorgan, which is why the May reading on builders' sentiment remained in the cellar. However, signs that the drag from home construction is easing mean all those worst-case scenarios for housing's impact on the economy probably will never come to pass.
By James C. Cooper
Before it's here, it's on the Bloomberg Terminal.
LEARN MORE