Three Pieces Of The Consumer Puzzle
Consumer spending is becoming an increasingly vital and uncertain part of the economic outlook. As a result, economists are turning to timely consumer-confidence indicators for guidance. But what insights do these various surveys really provide? It turns out that each has different strengths.
Consumer surveys are most popularly viewed as gauges of near-term spending. After all, if people feel more upbeat about the economy, jobs, and their financial situation, they are more likely to go shopping. The three longest-running surveys come from the University of Michigan/Reuters (RTRSY ), the Conference Board, and ABC News (DIS )/Washington Post (WPO ).
On tracking spending, however, "none of the three does very well," says Goldman Sachs (GS ) economist Edward McKelvey. Among the lot, "the ABC News/Washington Post survey marginally outperforms the other two." Recent weekly results point to a softening in consumer spending that matches recent retail sales data.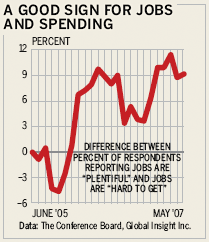 The strength of the Conference Board's survey, which has been a bit more upbeat recently, is its tracking of labor-market conditions. According to the May survey, 29% of respondents said jobs are "plentiful" vs. 19.9% reporting that jobs are "hard to get." That nine-percentage-point difference was a little wider than the gap in April. Based on historical trends, a positive and widening gap suggests that the jobless rate could shrink in the coming three months. So the latest result bodes well for both the labor market and spending.
Tighter labor markets may be good for economic growth, but they also raise inflation concerns. That's where the University of Michigan/Reuters report comes in, since "it has the more believable data on inflation expectations," McKelvey says. The ABC News/Washington Post survey doesn't ask about inflation, and the Conference Board's reading is perpetually too high.
Investors should follow all three surveys, since each adds detail to the picture of how consumers are doing.
By James Mehring
Before it's here, it's on the Bloomberg Terminal.
LEARN MORE