U.S.: Get Ready To Exhale: The Slowdown May Be Ending
A pickup in manufacturing signals stronger growth is on the way
The government's first estimate of economic growth last quarter, reported at a pitiful 1.3%, was bad enough. But when Washington's statisticians release their update on May 31, based on more complete data, economists are betting the result will look even worse. Right now projections average slightly below 1% and range as low as 0.6%, based on a survey of 14 forecasters polled by Action Economics. Last quarter was most likely the economy's worst in more than four years.
However, investors should concentrate on the road ahead and not spend too much time staring into the rearview mirror. Last quarter was likely the nadir for this economic slowdown. Why? The clearest evidence comes from the recent pickup in the U.S. manufacturing sector. The two foremost indicators of factory activity, the Purchasing Managers Index and the Federal Reserve's report on industrial production, both of which tracked the economy's downshift last year, are now regaining lost ground.
It's true that the manufacture of goods represents only a little more than a third of the overall economy, as measured by real gross domestic product. The broad service sector weighs in at about 55%, with construction adding about 8%. However, the industrial sector still contributes greatly to short-term shifts in the economy's growth rate. In fact, a quick calculation shows that quarter-to-quarter changes in real GDP for goods alone account for 80% of the quarterly ups and downs in overall GDP growth. That's why the recent uptick in factory activity strongly suggests the first quarter's paltry performance does not portend continued weakness.
More important, the manufacturing rebound is crucial to the outlook because improvement there is strongly linked to turnarounds in the three areas outside housing where the economy has been weak in recent quarters: capital spending, inventory growth, and the trade deficit. Add in prospects for continued, if slower, gains in consumer spending and evidence of reduced drag from the housing slump, and the signals for better growth beginning in the second quarter look good.
THE PATTERN OF PRODUCTION through April tells the story. Factory output rose 0.6% in March and 0.5% in April, the strongest back-to-back increases since the middle of last year. Even modest gains in May and June would lift the quarterly growth rate of output to nearly 5%, at an annual rate, up from 1.2% in the first quarter and from a 2.1% decline in the fourth quarter of last year.
The pickup has been broad, including consumer goods, business equipment, and materials. Even car companies are revving up the pace. After sharp cutbacks during the previous three quarters, mainly in the effort to clear away overstocked dealers' lots, Detroit is ramping up production in the second quarter.
Housing-related output remains weak, especially in wood products and furniture. But even production of construction supplies rose a bit in March and April and shows signs of stabilizing after last year's sharp drop. That pattern is consistent with the strength in business construction, which is helping to offset some of the production weakness caused by the housing slump.
ONE OF THE MOST IMPORTANT sources of new life in manufacturing is the rebound in production of business equipment, which tracks capital spending pretty well. After sagging badly, output has rebounded in all major equipment categories, including high-tech gear, transportation equipment, and industrial machinery.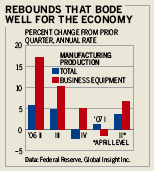 Business investment in equipment fell in the fourth quarter and barely rose in the first quarter, but these recent output gains, along with firmer trends in orders and shipments of capital goods, mean capital spending will make a much bigger contribution to real GDP growth this quarter.
Stronger factory activity also implies a reversal of the weakness caused by last summer's top-heavy inventories. As stockpiles of autos and housing-related goods ballooned in relation to demand, businesses quickly cut back on ordering, and manufacturing production felt the pinch. Slower inventory growth, by itself, subtracted 1.2 percentage points from fourth-quarter GDP growth. Recent data suggest another full-point reduction to first-quarter growth, much bigger than the government's initial estimate.
The upturn in manufacturing output means the inventory adjustment is over, and stock rebuilding will be a plus for second-quarter GDP growth as businesses refill their warehouses to meet demand. In April, for the second month in a row, companies surveyed by the Institute for Supply Management said their customers' inventories on hand were less than sufficient, and the percentage of businesses saying stockpiles were "too low" was the highest since July, 2006.
THE FACTORY-SECTOR BOUNCE also means manufacturers continue to receive plenty of support from foreign demand. Exports tanked in the first quarter, falling 1.5%, at an annual rate and adjusted for prices. That decline partly explains why a wider trade deficit took away nearly a percentage point from GDP growth last quarter. However, the export drop mainly reflected a one-time falloff in aircraft shipments and was not indicative of the strong upward trend. Exports of consumer goods surged nearly 16%, and auto shipments grew almost 9%.
Manufacturers' exports continue to benefit from strong demand abroad and a more competitive dollar. Overseas shipments had grown 10.4% per quarter during 2006, and the Institute for Supply Management's index of export orders through April remains at a level historically consistent with export growth in the range of 8% to 10%. In the second quarter, exports will return to their robust upward trend and contribute positively to GDP growth.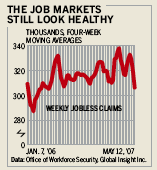 Demand at home will also propel the factory rebound. Consumer spending is sure to show the effects of surging fuel prices this quarter as more household income is diverted toward buying gas, with less left over for other discretionary purchases. However, consumers are hardly in deep trouble. Consumer sentiment in May, as gauged by the Reuters/University of Michigan Surveys of Consumers, actually edged up from April despite the pain at the pump.
Two likely reasons: First, the rally in stock prices is adding handsomely to overall household net worth, more than offsetting any losses to wealth from soft home prices. Second, the job markets show every sign of continued strength. The most important signal comes from the latest drop in weekly claims for unemployment insurance. New claims fell below 300,000 per week in the first half of May, and the four-week moving average is the lowest in more than a year. The current level of claims is consistent with a healthy pace of job growth.
So if you're worried the economy is flagging, especially when you see the government's update on last quarter's GDP, be heartened by the rebound in manufacturing. It means the economy is picking up speed.
By James C. Cooper
Before it's here, it's on the Bloomberg Terminal.
LEARN MORE