Smith & Wesson: A Gunmaker Loaded With Offshoots
Smith & Wesson Holding Corp. has long possessed one of the most recognizable brands in the world. But consumers may be surprised to discover where the iconic gunmaker's name is turning up. Anyone for a dab of Smith & Wesson men's cologne before heading off on a weekend hunting trip? Or perhaps throwing a shank of just-shot venison into a Smith & Wesson 357 Magnum Wood Pellet Smoker? The company has become a paragon of brand extension under Chief Executive Officer Michael F. Golden, who took over in 2004. Most new products, like shotguns and rifles, are closer to the company's roots. But the licensing push is the most visible sign of the changed mindset at the 155-year-old company.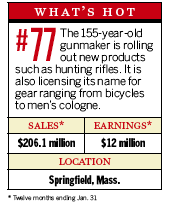 That new way of thinking is helping the company rack up some impressive numbers. Barely profitable when the 53-year-old Golden took over, Smith & Wesson's revenues rose 27%, to $160 million, in its most recent fiscal year. Profits climbed 66%, to $9 million, and the stock has more than doubled over the past year.
When Golden signed on with the company, he knew nothing about guns. But he had helped Black & Decker Corp. (BDK ) expand its power tool business and had overseen sales and marketing of hardware at Stanley Works (SWK ). While Smith & Wesson had always been the dominant name in handguns, especially after Clint Eastwood's Dirty Harry unholstered a Smith & Wesson .44 Magnum, but it had focused on little else for decades. Meanwhile, marketing surveys showed gun buyers were interested in purchasing shotguns, hunting rifles, ammunition, even security alarm services from Smith & Wesson. The only thing stopping them: The company didn't have a product in any of those categories.
The company had also completely fumbled the law enforcement and military markets by failing to keep up with changing technologies. By the time Golden took over, its market share with local police departments had tumbled from over 95% to 10%. "It was just a terrific brand that they weren't doing anything with," he says. "Now we're redefining the businesses we're in."
The new CEO quickly set about extending the brand with new products, as he'd done at Black & Decker. Last year, the company introduced a shotgun for hunters. It also ramped up production of a lightweight pistol made mostly from high-strength plastics, designed to appeal to police departments. Smith & Wesson's sales of firearms, which were declining in early 2005, have risen by over 40% in each of the last four quarters.
The company has also moved on the mergers-and-acquisitions front. In January, it bought Thompson/Center Arms, a leading maker of rifles, for $70 million. The $1.1 billion annual market for so-called long guns like those made by Thompson is almost twice as big as the total retail handgun market, Golden says. Thompson's manufacturing expertise with longer barrels will help accelerate growth into more new areas.
Smith & Wesson has also brought in an infusion of outside talent. Executives with backgrounds at Coca-Cola (KO ), Frito-Lay (PEP ), Stanley Works, and Harley-Davidson (HOG ) are key members of the sales, merchandising, and marketing team. A former Harley executive, Bobbie Hunnicut, oversees licensing of the brand for everything from bicycles to watches to wood smokers. In the most recent quarter, licensing revenue rose 17%, to almost $500,000.
With Smith & Wesson projecting sales gains of 40% or more for fiscal 2007 and 2008, investors are taking notice. "I've talked to sporting goods stores and they just can't get the new [gun models] in fast enough," says Thomas Barry, chief investment officer at Bjurman, Barry & Associates, a mutual fund manager that owns 1.3 million shares of Smith & Wesson. "Every time the stock takes a dip, we try to buy."
The company's biggest opportunity may be with the military. Golden hired an 11-year Marine Corps veteran who had worked for competitor Beretta to head up a government sales drive. The U.S. military is planning to shift its handgun purchases this year to the .45 caliber size where Smith & Wesson dominates. The contract could be worth $500 million. "Their opportunities have gotten larger and larger," says Joseph W. Garner, director of research at Emerald Asset Management Inc., another shareholder. "They're just getting started."
By Aaron Pressman
Before it's here, it's on the Bloomberg Terminal.
LEARN MORE