Liquidity Services: Sell It Again, Sam
Looking to unload 1,300 pounds of scrap titanium? Seeking top dollar for a truckload of new kitchen cabinets or hundreds of used laptops? EBay Inc. (EBAY ) probably isn't your best choice for hawking such huge quantities of goods. But Liquidity Services Inc. (LQDT ) might be. By drawing thousands of buyers to a single online marketplace to win higher sales, this dot-com is reinventing the resale and surplus industries the way other Internet auctioneers transformed flea markets.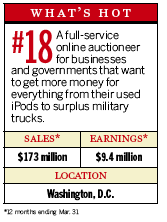 LSI is no garden-variety Net emporium. The company has auctioned off everything from cavalry horses to thousands of used iPods. And it's using data from millions of sales to change the way big retailers manage their reverse supply-chain headaches—returned items, refurbished goods, and other stuff they unload at fire sale prices. "We're turning nickles and dimes into quarters and dollars for our clients," says William Angrick, the 39-year-old founder and CEO.
The company is changing the game in the liquidation industry, which remains highly fragmented. Many retailers still rely on local cash buyers who haul away unwanted stock on quick notice. In comparison, LSI's centralized process brings huge efficiencies. The company determines the ideal lot size for a product, drums up would-be buyers, manages the bidding, and handles the final financial transaction. N.E.W. Customer Services Cos., an administrator of extended warranties based in Sterling, Va., credits LSI with sharply boosting proceeds from sales of mountains of broken or damaged goods. "They've captured almost three times the amount of revenue as our previous liquidator," says Vice-President Luke Kathol.
The auctioneer got its first break doing work for the U.S. government, landing the Defense Dept. as a client. Defense, which remains the company's biggest contract, had the equivalent of 1,500 full-time workers managing surplus sales from 200 warehouses. LSI landed its first contracts with Defense in June, 2001, and now handles all its public surplus sales.
These days, LSI runs three Internet auction sites, including one that hawks government surplus from Britain's Defense Ministry. The sites have more than 600,000 registered buyers. The company makes money by taking a commission on items that sell, not by charging for listings, as some other auction sites do. A fourth site, gowholesale.com, is a portal for small businesses looking for sources of inventory.
LSI has logged 18 consecutive quarters of earnings growth since it was founded in 1999. Revenue in its most recent quarter was $49 million, up from $37 million the previous year. The thinly traded stock hit an all-time high of about 24 in February, double its initial public offering price in early 2006. It has since dropped back to around 18.
Angrick was sold on the idea of online auctions while working as an investment banker at the Baltimore office of Deutsche Bank Alex. Brown (DB ), where he had a hand in several hot Internet initial public offerings, including Yahoo! (YHOO ) and America Online (TWX ). Looking for an opportunity of his own, Angrick settled on the liquidation industry, a highly fragmented segment of the business-to-business marketplace. By January, 2000, he and five employees had set up shop in downtown Washington, D.C.
Now Angrick is using his success in Defense surplus sales as a calling card with big-box retailers, manufacturers, and distributors. About 6% of everything that's bought at a brick-and-mortar store is subsequently returned. That number is almost double for online retailers. Analysts predict that this "reverse logistics" market will hit $63 billion in 2008. "The opportunity," says Angrick, "is incredible."
By Lorraine Woellert
Before it's here, it's on the Bloomberg Terminal.
LEARN MORE