Kinetic Concepts: High-Tech Healing
It is a sad fact of our troubled world that the wound-treatment market is huge and getting bigger. War casualties, accidents, diabetic skin ulcers—all are on the rise. Consequently, so is San Antonio's Kinetic Concepts Inc. (KCI ), the dominant maker of high -tech wound-closure products that use foam and vacuums rather than gauze and bandages. This is the fastest-growing segment of the wound-treatment market, and Kinetic holds a 90% share.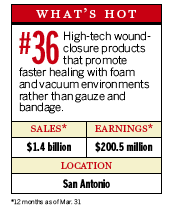 Catherine M. Burzik, who arrived at Kinetic as CEO only last November, says there is still plenty of room for growth, however, because some 80% to 90% of wounds are still treated with low-tech gauze dressings. "We have only begun to penetrate the overall wound market," says the 56-year-old Burzik, who spent most of her career at the medical-device divisions of Eastman Kodak (EK ) and Johnson & Johnson (JNJ ).
Wounds were not Kinetic's original reason for being. The company was founded 30 years ago by an emergency-room physician, Dr. Jim Leininger, to commercialize a slowly swinging hospital bed he invented to prevent deadly complications that can develop when a patient lies still for long periods. The company's growth prospects changed dramatically in 1995, however, when it introduced a revolutionary wound-treatment product called vacuum-assisted closure (VAC). The system uses a nonabsorbent foam that is inserted into the wound and covered by a transparent membrane. Air is sucked out of the area around the foam with a vacuum, creating "negative pressure" that hastens healing, prevents infection, and lessens scarring.
VAC costs far more than gauze wound dressings, but studies have found that speeding up wound repair can bring the overall cost of care down to the same level or lower. A Dutch clinical trial published in 2006, for example, found that VAC significantly reduced the need for nursing care and made patients feel more comfortable.
Kinetic is determined to prove that VAC can also improve outcomes for many types of wounds. A company-sponsored study released in May involving 335 patients found that VAC was able to close more diabetic foot ulcers—and close them faster—than traditional therapy. That lowered the number of foot amputations in the Kinetic group to 7, compared with 17 in the control group. Persistent foot ulcers lead to foot amputations in about 15% of diabetics.
DIRECT PRESSURE
VAC products accounted for 78% of Kinetic's $1.4 billion in revenues in 2006; the original hospital bed division made up the rest. Wound care will continue to drive the company in the future, says Burzik. She plans to increase research and development spending from 2.6% of revenues in 2006 to 5% or 6% in the next few years. "I think there are huge possibilities if we focus on the science," she says.
Among those opportunities: incorporating pain drugs or antibiotics into the foam inserted in the wound and treating a broader variety of wounds. She also wants to expand into products that are used before and after the VAC is applied.
But Burzik may soon be jousting with Kinetic's first significant competitor. On May 11 medical device company Smith & Nephew PLC, (SNN ) which is twice Kinetic's size, announced it was buying BlueSky Medical Group, a private outfit that just won a patent dispute with Kinetic over its similar wound-treatment product. Kinetic, which claimed infringement, is appealing the decision.
Several industry analysts lowered their recommendations for Kinetic after the Smith & Nephew announcement on fears that competitive pressure could cut into its market share, or at least force it to lower prices. Burzik responds that there is plenty of room in the market for both companies, and points to Kinetic's strong leadership position. "We've built an incredible reach into hospitals and home health agencies, and we will continue to leverage those relationships," she explains.
Meanwhile, Kinetic is looking to Asia for growth. The company won regulatory approval in December to start 11 clinical trials in Japan, and later this year Burzik hopes to have a plan developed for entering India and China.
And, of course, there is man's continued inhumanity to man, which assures that the wound-treatment market will keep expanding. In December the U.S. military approved the use of Kinetic's VAC on medical evacuation flights for injured soldiers.
By Catherine Arnst
Before it's here, it's on the Bloomberg Terminal.
LEARN MORE